Men...they're a group that loves getting together and bonding in their own special way, which typically involves burping, farting, drinking beer and the roasting of meat.  I've long believed that sporting events are the male equivalent of a Mary Kay or Tupperware party, though you'll never get a man to admit that in a million years.  :no no:
Well now, thanks to Man Cave, there's a way for men to have a little bonding time doing all the things they love.  Not only is this type of activity encouraged, at a Man Cave MEATing, it's downright required!  Keep reading to learn more!
I reviewed the Shot Board from Man Cave, which retails for $79.00.

If you happen to have a personable guy in your life that just loves to hang out with the fellas, then Man Cave might have the perfect opportunity for him.  Man Cave is the first home party for men.  They get guys together for home parties called MEATings where the menfolk will eat meat, drink beer, and experience fun products and games like hammerschlagen at a friend's house.  All of these goodies are provided by Man Cave so that the fun can begin.
Man Cave Guides set up these "MEATings" on a part-time basis.  They grill meat, drink beer, bulls%$*  with the guys, and make extra money while doing it!  Perhaps your husband or boyfriend has their eye on a brand new car, boat or other flashy accessory that's just out of the family budget.
Now, as a Man Cave Guide, they can earn extra income for the items on their wish list or even to help make a mortgage payment.  Of course, now when they say that they're going to drink, play games and eat meat with the boys, they're actually going to work!  Talk about a fun way to earn a living!
Although my husband wasn't necessarily convinced yet to become a Man Cave Guide, he was totally enthralled with the infamous Man Cave Shot Board.  Personally, I haven't seen a shot board since college, but remember them being a lot of fun.  After all, drinking with your buddies is much more fun than drinking alone and the Man Cave Shot Board takes the enjoyment of community spirits to a whole new level.
Not quite sure how a shot board works?  Check out the brief demo video below and find out!
The Man Cave Shot Board is a handcrafted plank of walnut wood which is hinged in the middle.  There are two holes drilled in either side so that it can be hung on the wall when not in use and once the latch is snapped together in the middle, one long board resembling a ski is formed.  On this board are glued four Man Cave shot glasses, which is the only part of the Shot Board I didn't quite understand.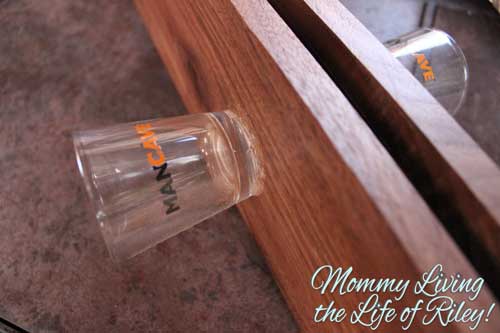 Honestly, I didn't expect these shot glasses to be permanently affixed to the board itself, because now, washing the glasses is much more difficult.  Also, storing the board isn't as convenient either because you must always be cognizant of chipping or breaking the glasses.
Actually, one of our four shot glasses already has a large crack in it and removing it from the Shot Board is going to prove rather difficult, if not impossible.  It seems to me that if the glasses were somehow affixed with a large piece of Velcro on the bottom instead, the whole washing and storage ritual would be much easier and much safer.
Who knows though...I've seen my husband in action amongst his guy friends and men are strange when it comes to their booze, cleanliness and injury.  Knowing my husband's band of friends, they'll break one of the shot glasses on purpose or never clean them at all and then double dog dare each other to take a shot from the damaged glass.  As soon as someone begins bleeding or complaining in any way, the others will all laugh uncontrollably and have an amazingly good time.
Men...  :i don't know:  I believe I'll just stick to my Mary Kay and Tupperware parties!  :rofl:
Disclosure:  I received the Shot Board from Man Cave in order to facilitate my review. No other compensation was received. This product review is based on my own personal experiences with this item and is completely honest and objective.
I'm a former 7th grade Science teacher turned stay-at-home mom that lives in Houston, Texas. I am married to my college sweetheart and have a beautiful daughter named Riley, who definitely keeps me on my toes! I am also involved in starting a small business which would both manufacture and sell an invention that I've patented, called Toothpaste 2 Go. I love interacting with my readers and hope to learn as much about you as you learn about me!
Melissa @ Mommy Living the Life of Riley!