When I was younger, I loved drinking an ice cold beer from time to time.  In the South, beer is almost as popular as iced tea and quite frankly, I just wasn't exposed to wine much.  As I got older, I became more and more curious about wine and with the help of a few knowledgeable friends, I quickly began to see what all the fuss was about.
Now, at age 36, I prefer a glass of wine any day to a bottle of beer and have even converted my husband into a bona fide wine lover as well.  Enjoying a great vintage though is not as easy as enjoying a beer.  Much care must go into properly storing and serving your bottle of wine in order to truly reap the nuances and flavors it has to offer.
Unfortunately, I live in a house divided!  My husband can't get enough of the red wines and I am a devoted white wine fan.  Keep reading to learn the secret of how to store both your white and red wines at the proper temperatures as well as just what those temperatures should be.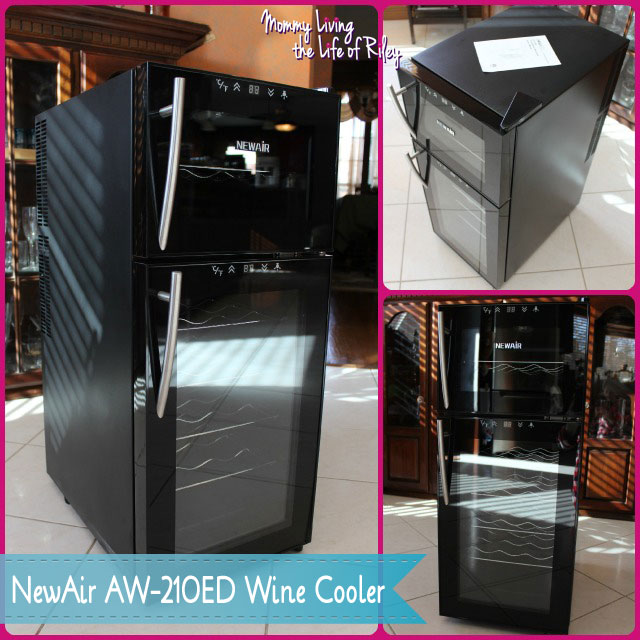 Now while wine lovers agree that whites should be served at colder temperatures than reds, there's still a matter of preference that comes into play when choosing what wine storage temperature you want to use for each.  The problem in my house is that we only have one refrigerator (with limited space) and simply can't store both red and white wines at differing temperatures with ease.
As a general rule, Americans serve and drink white wine too cold (35-40 degrees F), which can ruin the true bouquet of the vintage.  The cold temperature itself often masks some of the wine's character and robs you of the full tasting experience.  On the other hand, red wine shouldn't be served at a temperature over 65 degrees F, yet in my house, we serve it at room temperature, which is more like 73 degrees F.
Use the following table as a guideline for ideal storage temperatures for your favorite varietals.  Thanks to the NewAir AW-210ED Thermoelectric Wine Cooler, I can follow this chart with ease and keep both my husband's reds and my whites stored at both of their optimal temperatures, as well as in the optimal horizontal position.
If you're like me, you may wonder why it's important to always store your wine lying down.  The answer is quite simple and made perfect sense once I thought about it.  When you lie your wine bottle on its side, the cork stays moist.  This will minimize the chance of the cork drying out over time and letting undesirable air into the bottle.
The NewAir Wine Cooler I reviewed offers horizontal storage for up to 21 bottles of wine, 6 bottles in the upper compartment and 15 bottles in the lower one.  There are six removable racks as well so that wine bottles with a larger base can be stored with ease.  Each section of the NewAir Wine Cooler is designed to chill your wines to temperatures ranging from 44 to 66 degrees Fahrenheit.  Simply press the arrow keys located on the panel above each compartment door to control the settings individually.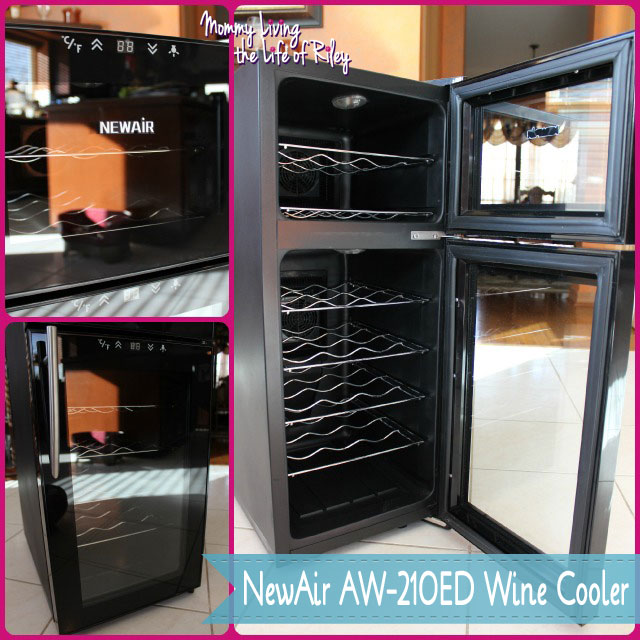 Need to shed a little extra light on the situation?  Find your favorite vintage quickly and easily with soft blue illumination that can also be individually controlled.  The NewAir AW-210ED is a sleek, sophisticated wine cooler which is easy to operate and does a great job of storing your favorite wines like a pro.  Now you can rest assured that each and every time you pop the cork and pour yourself a glass of vino, you'll be enjoying and savoring all the flavors that particular vintage has to offer.
This wine cooler runs very quietly, takes up a minimal amount of room (13.5" L x 20" W x 32.13" H) and looks amazing.  Since owning the NewAir wine cooler, I'm kicking myself for not purchasing a model like this sooner.  I can't believe how much better tasting my wine is simply from serving it at the proper temperature.  My husband agrees that his favorite bottle of wine tastes much different now that it is being served at the correct temperature.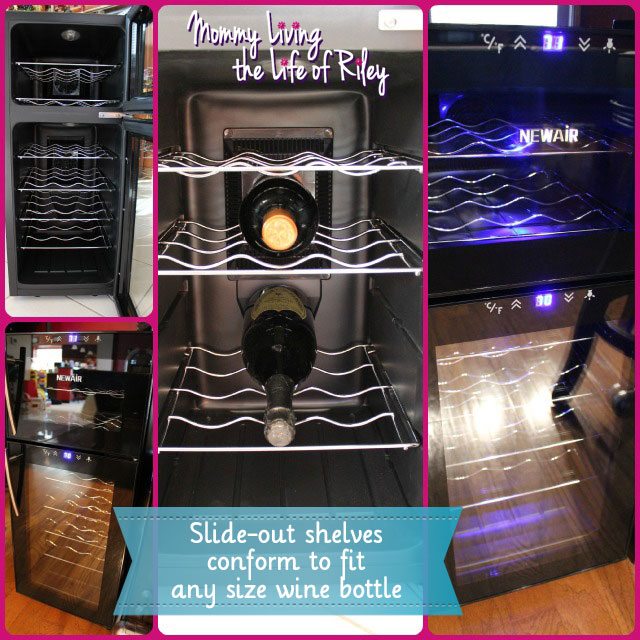 If you're a wine lover as well, I definitely recommend following the included temperature and storage guidelines mentioned above as well as using the NewAir AW-210ED Thermoelectric Wine Cooler.  With this particular wine cooler, both reds and whites can be stored optimally so that you and your guests will always have a great vintage at your fingertips.  Experience the full flavor and richness your wine may be missing!
Disclosure: I received the AW-210ED Thermoelectric Wine Cooler from NewAir in order to facilitate my review. No other compensation was received. This product review is based on my own personal experiences with this item and is completely honest and objective.
I'm a former 7th grade Science teacher turned stay-at-home mom that lives in Houston, Texas. I am married to my college sweetheart and have a beautiful daughter named Riley, who definitely keeps me on my toes! I am also involved in starting a small business which would both manufacture and sell an invention that I've patented, called Toothpaste 2 Go. I love interacting with my readers and hope to learn as much about you as you learn about me!
Melissa @ Mommy Living the Life of Riley!