Each year, I realize I move farther and farther away from Baby New Year and closer and closer toward Father Time.  Of course, who wants to look the part?  
 I take my skin care regimen very seriously and have been using some amazing products for years which really help my skin look its best.
Following a regular schedule of exfoliation and moisturization is a terrific way to turn back the hands of time, promote skin cell turnover and an overall refreshed look, as well as reduce the signs of fine lines and wrinkles.  Now, thanks to Onsen, it couldn't be easier to treat your skin to a daily regimen of effective attributes to help you fend off the hands of time.
Receive 50% OFF your entire order of face care products from Onsen by using coupon code "50stillblond"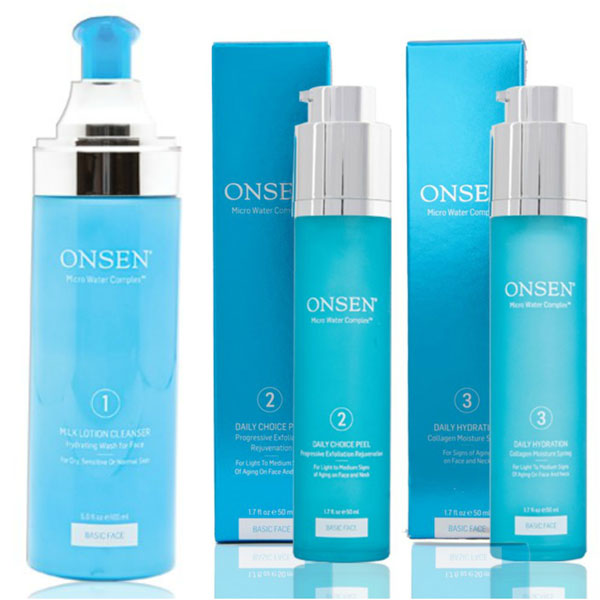 Onsen's Water Technology is one of a kind and unlike anything I've ever heard of before.  All the products in their skin care series contains 100% active solutions.  In other words, most skin care products contain 70 to 80 percent water, Onsen systems on the other hand, use proprietary technology to transform ordinary water into a completely active ingredient that's infused with skin specific nutrients.  The active water is so named because through the activation process, the water molecule structures are reduced and then able to penetrate deeper into skin layers to deliver the active ingredients they carry.
Since my skin type is normal to oily, I was sent the Aloe Gel Cleanser to serve as the first step in my daily skin care schedule.  This mild gel cleanser calms the skin, tightens pores and stimulates collagen and circulation to tone and balance the skin.  It also gently detoxifies and purifies the skin, helping you achieve a flawless complexion.
Next, it's time to follow with the Daily Choice Peel which helps uncover the new skin underneath the surface.  It's a skin-safe formula that won't break capillaries and gradually exfoliates away dulling dead cells, uneven pigment, patchy skin and fine lines.  Each day you're treated to skin that looks a bit younger than the day before.  Simply apply a thin layer to your face and neck and let it sit for 10-15 seconds to activate.  Then massage it off in small circular motions and rinse clean.
Finally, it's time to nourish that newly exposed skin with the Daily Hydration formula.  It's a lightweight but potent collagen-fueled formula that delivers serious, sensuous hydration and also works to diminish fine lines, plump up skin surface and enhance elasticity.
I've been using the Onsen products for the skin for two weeks now and love these items.  I don't react badly to the peel ingredients at all and have just a mild flush to my skin immediately following an application.  While I haven't received wild, unbelievable results just yet, I have noticed an improved suppleness and smoothness as well as an increased clarity and brightness to my skin that wasn't there before.
I'm constantly fighting the "dull look" and love that these anti aging wrinkle creams work so well.  There's no doubt in my mind that with regular and continual use, your face will continue to improve and the aging process will definitely be slowed.  If you'd like to experience the wonder of more youthful and rejuvenated skin, then be sure to try Onsen skin care products to see what they can do for you!
Disclosure: I received the skin care products mentioned above from Onsen in order to facilitate my review. No other compensation was received. This product review is based on my own personal experiences with this item and is completely honest and objective.
I'm a former 7th grade Science teacher turned stay-at-home mom that lives in Houston, Texas. I am married to my college sweetheart and have a beautiful daughter named Riley, who definitely keeps me on my toes! I am also involved in starting a small business which would both manufacture and sell an invention that I've patented, called Toothpaste 2 Go. I love interacting with my readers and hope to learn as much about you as you learn about me!
Melissa @ Mommy Living the Life of Riley!