If you happened to read my previous post about the Ruth's Chris Steak House Duckhorn Portfolio Wine Dinner, you'll remember that my husband and I were scheduled to attend this special event for a one-of-a-kind date night experience.
Well, I'm super excited to tell you all about the amazing time my husband and I had as well as some of the many things I learned about wine and of course, the delectable food we feasted on!
The Duckhorn Portfolio Wine Dinner started promptly at 6:30 pm on March 1st and occurred simultaneously in 81 cities across the nation.  During this dinner, Duckhorn was scheduled to unveil their newest addition, the Paraduxx Napa Valley Red Blend.
When my husband and I arrived, we were kindly escorted upstairs to a large room dedicated especially for the wine dinner.  There were several large tables, designed to seat 8 people, which filled up rather quickly.  There was a high level of anticipation by everyone in attendance over the newest Duckhorn offering.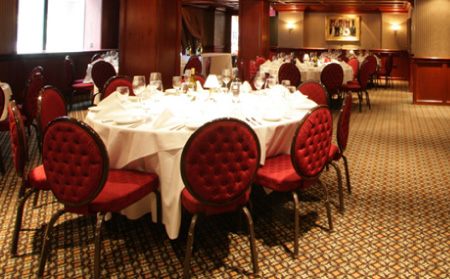 The evening began with a quick and informative question and answer session led by Stephanie Burleigh, a certified Sommelier, who gave a brief history of the Duckhorn brand as well as an explanation of the four wines we'd all be tasting that night.  We were lucky to have Stephanie sitting at our dinner table for she was kind enough to teach us many things about wine in general.
I had no idea there was so much to know and by the end of the night, we were all extremely impressed with Stephanie's breadth of knowledge on the subject.  I have to admit that, thanks to Stephanie, I have a new interest in wine tasting myself.
Next it was time to begin the five course meal and here again, I was impressed.  The entire staff at Ruth's Chris Steak House couldn't have been more courteous or professional.  They were extremely proficient at serving the large room of patrons and every dish I dined on was absolutely divine!  Here's a refresher of what was served during the Duckhorn Portfolio Wine Dinner:
1st Course
Spring Greens & Strawberry Salad with goat cheese,
toasted almonds, tossed with Champagne vinaigrette
Migration Russian River Chardonnay
2nd Course
White Bean & Chorizo Soup topped with julienne baby spinach
Goldeneye Anderson Valley Pinot Noir
3rd Course
Salt & Pepper Seared Lamb Lollipop with blackberry demi glace and
served with sweet potato casserole
Duckhorn Vineyards Three Palms Merlot
4th Course
Filet & Lobster Rockefeller served with red beans and
rice and sautéed mushrooms
Paraduxx Napa Valley Red Blend
5th Course
Chocolate Sin Cake with fresh berries and sweet cream
Coffee & Tea
I am truly not exaggerating in the least when I tell you that the food at Ruth's Chris Steak House was the best I have ever tasted!  Both my husband and I have been to thousands of restaurants over the years, but I've never experienced this level of quality and deliciousness before.
Most restaurants will have a handful of menu items that they do well, but it honestly seemed like every single dish we were served at Ruth's Chris was done to perfection!  The spring greens and strawberry salad was so yummy and fresh and the Migration Russian River Chardonnay was one of the best white wines I've ever tasted.
Next, we were treated to the second course of White Bean & Chorizo Soup paired with the Goldeneye Anderson Valley Pinot Noir.  Of course, the jokes were mentioned about the popularity of pinots being directly influenced by the movie, Sideways.  To my knowledge, I have never sampled a pinot noir before and I wasn't expecting to like this one, since I'm not a fan of red wine.
Surprisingly, I loved this particular pinot.  It had elements of cinnamon, vanilla and berry which were quite tasty and enjoyable.  I was also surprised at just how scrumptious the white bean soup was.  Before I knew it, I had eaten the entire bowl of it.
We were lucky enough to also be seated with the general manager of Ruth's Chris Steak House, Jason Perkins.  He was quite the wine expert as well and a great conversationalist.  Jason warned us that we were in for a real treat with the seared lamb lollipop with sweet potato casserole and I have to admit that this was the understatement of the night.
The sweet potato casserole was absolutely TO DIE FOR!  I have never tasted something so delicious and Jason informed us that people stop by and purchase large containers of this sweet treat for both Thanksgiving and Christmas.  After my experience at the Duckhorn Wine Portfolio dinner, I know I'll be standing in line this year for the sweet potato casserole too.
Then came the fourth course, which for me, was the most anticipated. I love a good filet and was really looking forward to dining on Lobster Rockefeller as well.  Both of these main dishes were even better than expected, to the point that my husband actually declared that his filet was THE BEST STEAK HE HAD EVER TASTED.  Now that took even me by surprise, since my husband doesn't dole out compliments easily, especially where food's concerned.
During the fourth course, the wine we had all been waiting for was revealed...the Paraduxx Napa Valley Red Blend.  I was learning through my experiences with the previous Pinot Noir and the Three Palms Merlot, that I actually liked red wines...a lot!  Drinking a quality wine served at the proper temperature apparently made a world of difference and so I couldn't wait to drink the all-new Paraduxx.
It was quite a treat and combined the perfect blend of fruity undertones and merlot-like dryness.  I loved the Paraduxx and have to admit that it was my favorite of the four wines I sampled that night, followed closely behind by the Migration Russian River Chardonnay.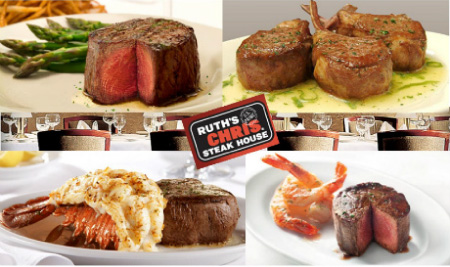 Last but not least, we were brought the chocolate sin cake with fresh berries and sweet cream for dessert.  Boy, was this cake decadent and rich, thanks in part to one of the main ingredients being espresso.  Jason joked that none of us would be going to sleep for a while after eating this cake!  After our wonderful meal was over, my table lingered for a while longer enjoying everyone's company before saying good night.  I really had a marvelous time and couldn't believe how enjoyable our date night turned out to be.
Ruth's Chris Steak House hosts a wide variety of these special theme nights throughout the year.  Jason told me all about a Shiner Bock beer event, scotch event and even a girl's movie night out offering.  I could just imagine how much fun my girlfriends and I would have at Ruth's Chris enjoying an elegant meal and then heading over to the local movie theater for a top-notch flick.
After the Duckhorn Wine Portfolio Dinner experience, both my husband and I are huge fans of Ruth's Chris Steak House.  If you're lucky enough to live near one, I highly recommend that you treat yourself and your special loved one to some of the best food in your town too!
Disclosure: My husband and I attended the Duckhorn Portfolio Wine Dinner at Ruth's Chris Steak House free of charge in order to facilitate my review. No other compensation was received. This product review is based on my own personal experiences and is always completely honest and objective.
I'm a former 7th grade Science teacher turned stay-at-home mom that lives in Houston, Texas. I am married to my college sweetheart and have a beautiful daughter named Riley, who definitely keeps me on my toes! I am also involved in starting a small business which would both manufacture and sell an invention that I've patented, called Toothpaste 2 Go. I love interacting with my readers and hope to learn as much about you as you learn about me!
Melissa @ Mommy Living the Life of Riley!