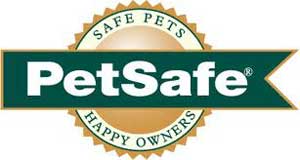 As any cat lover will tell you, there's one major downside to caring for our fluffy friends and that's the litter box.  This stinky, smelly contraption needs constant maintenance and care so that your entire home doesn't end up smelling like an ultra-large toilet.  Scooping the box after every one of your cat's "movements" is tedious, time-consuming and just flat nasty too.
Thankfully, PetSafe has developed the Simply Clean Self-Cleaning Automatic Litter Box System, guaranteed to reduce odor and bacteria as well as eliminate the need for constant scooping.  Keep reading to learn more!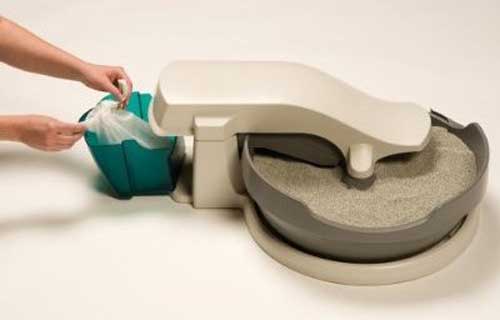 The PetSafe Simply Clean Self-Cleaning Automatic Litter Box System takes all of the frustration out of cleaning your cat's litter box, for absolutely everything is hands-free and automated.
There are no loud noises or quickly moving parts which will disturb most kitties and prevent them from using this self-cleaning litter box either.  What's more, this automatic litter box system uses only your favorite brand of premium scoopable cat litter and a recycled plastic grocery bag.  There are no expensive plastic bins or liners to use, making this investment a one-time purchase.
Features and Specifications:
Simply Clean automatically discards waste into built-in receptacle, 24 hours a day
No contact with dirty litter
No scoops, liners or filters to buy
Continuously cleans without disturbing your cat
Economical and environmentally safe
No visibly exposed moving parts
No batteries required, uses low-voltage AC adapter
For cats up to 12 pounds and 6 months or older who are able to use a traditional litter box
Dimensions: 19 inches wide x 26 inches long x 10 inches high
Setting up the Simply Clean Self-Cleaning Automatic Litter Box System was a snap...literally.  Once you remove the packaging and snap together a few parts, you're ready to go.  Depending on your kitty, you may have to allow for a small adjustment period so that your finicky feline can get used to their new potty.  Some helpful ways to do this are outlined in the YouTube video above.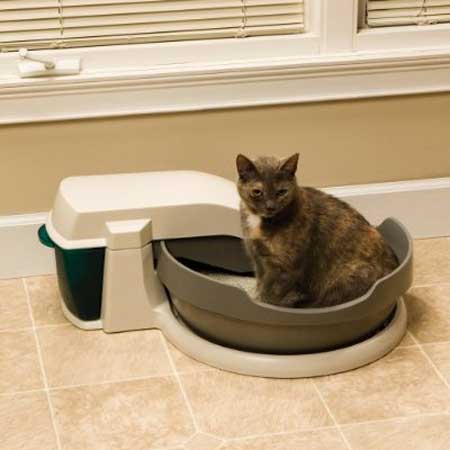 The way that the PetSafe Simply Clean Litter Box works is by turning the litter tray ever so slowly (one complete rotation per hour).  Any clumps that are found go moving up the conveyor system where they are dropped into your own recycled plastic shopping bag.
This machine is very quiet, so as not to bother your pet, and it works 24 hours a day so that all clumps eventually make their way into the disposable bag waiting on the other side of the conveyor.
The only thing I noticed when test driving this particular automatic litter box with my friend's feline is that sometimes the Simply Clean litter box would inadvertently break up the clumps instead of move them up the conveyor.  This didn't seem to happen very often though, but if it did, it might require an occasional manual scoop or two through the litter to get things extra clean.
Other than that, the only maintenance required with the PetSafe Simply Clean Self-Cleaning Automatic Litter Box System is to change both the recycled plastic bag and the scoopable litter itself on a regular basis, which is MUCH easier than the alternative.
If you've finally had it with your cat's dreaded litter box and you'd like to keep odors and bacteria at bay without having to raise a finger, then by all means, be sure to give the PetSafe Simply Clean Automatic Litter Box a try.  PetSafe has succeeded in conquering the litter box situation and eliminated the scooping, mess and smell of a traditional litter box once and for all!
Disclosure:  I received the Simply Clean Self-Cleaning Automatic Litter Box System from PetSafe in order to facilitate my review. No other compensation was received. This product review is based on my own personal experiences with this item and is completely honest and objective.
I'm a former 7th grade Science teacher turned stay-at-home mom that lives in Houston, Texas. I am married to my college sweetheart and have a beautiful daughter named Riley, who definitely keeps me on my toes! I am also involved in starting a small business which would both manufacture and sell an invention that I've patented, called Toothpaste 2 Go. I love interacting with my readers and hope to learn as much about you as you learn about me!
Melissa @ Mommy Living the Life of Riley!