Father's Day is tomorrow, but I was fortunate enough to have the opportunity to wine and dine my husband in grand fashion for an early Father's Day celebration.  You may remember me telling you all about a unique culinary experience happening at Ruth's Chris Steak House just in time for Father's Day:  the Glenmorangie Scotch and Wine Dinner.
Ruth's Chris Steak House paired with Glenmorangie Single Malt Scotches and Moet and Casa Lapostolle wines on Sunday, June 10th for a phenomenal night of amazing spirits and innovative cuisine.  All attendees had the opportunity to sample champagne, Cabernet Sauvignon and several varieties of single malt scotch, as well as delight in a 5-course meal of sumptuous food.  Keep reading to learn more about our night out as well as what interesting tidbits I learned about Glenmorangie Scotch!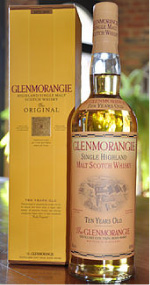 I have to admit that I was very excited to attend this special Glenmorangie Scotch and Wine Dinner at Ruth's Chris Steak House for, being Scottish myself, I looked forward to learning more about this special whisky from the motherland.  I've attended one other event like this at Ruth's Chris and knew that not only would I dine on amazing food that evening, but I would also learn plenty about the spirits we would be sampling.
For instance, Glenmorangie is owned by Moet Hennessy, who is in turn owned by Louis Vuitton, so luxury is definitely in their lineage.  It's the best-selling single malt in Scotland and was first produced on the Morangie Farm in 1738, when a brewery was built there that shared the farm's water source, the Tarlogie Spring.  Scotch can only be produced in Scotland and typically uses a number of different cask types, with all products being matured in white oak casks which are manufactured from trees growing in Glenmorangie's own forest in the Ozark Mountains of Missouri.
We had the chance to sample five different single malts and if there's one thing I learned, it's that I am NOT a Scotch drinker. :laugh:  It was interesting to sip these different styles of Scotch though and notice the underlying tastes and flavors infused into each.  I also learned that in order to truly smell a good Scotch (which you should always do before actually tasting it), you must do so with your mouth open.
First Course
Bacon Crusted Baked Goat Cheese with Guinness Maple Reduction
Glenmorangie Original 10 Year Old
Second Course
Spring Greens, Apple and Walnut Salad with Balsamic Vinaigrette
Moet Imperial Brut Champagne
Third Course
Smoked Salmon Carpaccio with Capers, Onions, Chopped Egg and Toasts Points
Glenmorangie Quinta Ruban-Port Cask finished Single Malt Scotch
Fourth Course
Filet & Wild Mushrooms with Broccolini & Mashed Potatoes
Casa Lapostolle Cabernet Sauvignon
Dessert
Ruth's Signature Bread Pudding with Drambuie Crème Anglaise
A Flight of 2: Glenmorangie Nectar d'or – Sauternes Cask finished Single Malt Scotch & Extremely Rare 18 Year old
Just when I thought that the Ruth's Chris menu couldn't possibly be improved upon from the Duckhorn Portfolio Wine Dinner, I have to admit that they amazed me again.  I am a picky eater by nature and rarely like to try anything new, but at Ruth's Chris Steak House, I always charge ahead with full steam and let my palette enjoy everything presented to me.  While each dish was delicious, my favorites were definitely the Bacon Crusted Baked Goat Cheese, Smoked Salmon Carpaccio and Filet & Wild Mushrooms.
Did I basically mention everything on the menu?  Yes I did, and that was after trying to narrow it down to just these three!  :drool:  I can now say without a doubt that the filet I tasted from Ruth's Chris Steak House is THE BEST I've ever eaten and was cooked to perfection.  This is no small statement either...I'm from Texas and down here, we know our steaks!
My husband and I thoroughly enjoyed ourselves at another fantastic night of food, spirits and togetherness at Ruth's Chris Steak House.  The Glenmorangie Scotch and Wine Dinner was a terrific evening of unbelievable cuisine and rare alcoholic beverages.  This type of special event happens once every few months around the country, so please visit the Ruth's Chris Steak House site to learn more about the next event on their calendar as well as find a participating restaurant in your area.  I promise that you will be oh-so-glad you did!
Disclosure:  My husband and I attended the Glenmorangie Scotch and Wine Dinner at Ruth's Chris Steak House free of charge in order to facilitate my review.  No other compensation was received.  This product review is based on my own personal experiences and is always completely honest and objective.
I'm a former 7th grade Science teacher turned stay-at-home mom that lives in Houston, Texas. I am married to my college sweetheart and have a beautiful daughter named Riley, who definitely keeps me on my toes! I am also involved in starting a small business which would both manufacture and sell an invention that I've patented, called Toothpaste 2 Go. I love interacting with my readers and hope to learn as much about you as you learn about me!
Melissa @ Mommy Living the Life of Riley!