Colossal Christmas Countdown:

10 Days Until Christmas!

One of the greatest things about living in the modern age of technology is that you never have to experience boredom again.  The ability to be entertained is always at our fingertips and instead of spending hours on a long, uneventful car or plane ride, we can now watch one of our favorite movies with the touch of a button.  Audiovox is a leader in consumer electronics and has manufactured a complete line of portable DVD players.

I was fortunate enough to have the opportunity to review the D710 Portable DVD Player with 7-Inch LCD Screen.  Keep reading to learn all about it and how you could bring someone special the gift of entertainment this holiday season!
I couldn't wait to get my hands on the D710 Portable DVD Player from Audiovox, because I have had so many great experiences with other Audiovox electronics I've owned before, such as my home theater system.  As soon as this portable DVD player arrived, I was very pleased with the overall design of it.  The 7-inch LCD screen was definitely large enough to comfortably watch a movie on and with the 16:9 aspect ratio of the screen, I knew all of my widescreen movies would display perfectly.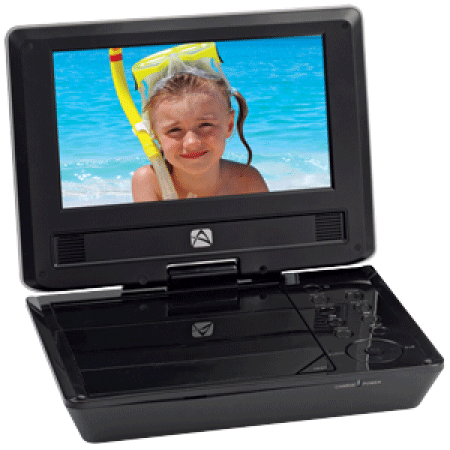 Another feature I really liked was how the control panel was located on the top right side of the machine and also how the DVD player itself was top-loading.  I've noticed many other portable DVD players that have their controls on the side or front of the machine, which can be inadvertently activated by simply bumping up against an armrest or your belly.  The top-loading characteristic of this DVD player ensures that changing discs is quick and simple to do, even for children.
Two clear and powerful stereo speakers are located just underneath the LCD screen and deliver nice audio.  Of course, most of the time, a portable DVD player will be utilized around others, so I thought it was a very nifty feature to have two headphones jacks on the right side of this player.  Now, both you and another person can tune in and watch the same movie together without disturbing those around you.
The Audiovox D710 Portable DVD Player is also extremely compact and sleek looking.  Audiovox has definitely made a solid design with this player, for it is even small enough to fit in my purse!  I also liked how lightweight it was and that it would be a breeze to take along to the beach, on an airplane ride or car trip.
Once you arrive at your destination, you can then use the "video out" jack on this portable DVD player to hook it up to a full-size TV and play movies directly on it too!  This would be wonderful to use in hotel rooms on vacation.  Now, you are no longer at the mercy of the expensive "pay to rent" movies from your hotel and can watch as many as you want for free.
This portable DVD player will always be at the ready for you to use due to its 2-hour rechargeable battery.  This player comes with an AC adapter and even a car charger, though you are not supposed to use the car charger to actually charge this player's battery.  The only thing I was disappointed with was the battery life of this DVD player.  The instructions state that under optimal conditions, the fully charged battery will last two hours.
Personally, that just isn't long enough for my liking.  If I am on an airplane or other place where I don't have access to a power source, I would only be able to use this item for maybe two hours.  I watch a lot of movies that are longer than that, and wish this battery had a least a 2.5 - 3 hour battery life.  Thankfully, Audiovox also makes the D7104, which contains a 4-hour battery, for those who are frequent fliers.
Personally, this portable DVD player has already helped me out of a needlessly stressful situation...twice.  I was able to use it during a layover at the Dallas-Fort Worth Airport and believe me, those hours just flew by as I was watching Sixteen Candles in crystal clear video and audio!  Also, Riley had the opportunity to use it to watch Sesame Street during the last half hour of a very trying 3 hour car trip in the pouring rain.  Both of these situations were instantly made better by the quality entertainment provided by the Audiovox D710 Portable DVD Player.
If you have someone on your holiday list who could use a quick pick-me-up while traveling, or who has kids that would enjoy watching their favorite movies on the go, then I highly recommend the Audiovox D710 Portable DVD Player.  It's sleek, compact design is also extremely user-friendly and easy to carry too.
Both the video and audio are crisp and clear, and this player is compatible with DVD, CD, CD-R, CD-RW and even Picture CDs, so that you can view .jpeg files and listen to .mp3 files too.  Just make sure that you are comfortable with the 2-hour battery life of the D710 before purchasing.  Otherwise, I would recommend the 4-hour battery of the Audiovox D7104 Portable DVD Player.
Disclosure:  I received the D710 Portable DVD Player with 7-Inch LCD Screen from Audiovox in order to facilitate my review. No other compensation was received. This product review is based on my own personal experiences with this item and is completely honest and objective.
I'm a former 7th grade Science teacher turned stay-at-home mom that lives in Houston, Texas. I am married to my college sweetheart and have a beautiful daughter named Riley, who definitely keeps me on my toes! I am also involved in starting a small business which would both manufacture and sell an invention that I've patented, called Toothpaste 2 Go. I love interacting with my readers and hope to learn as much about you as you learn about me!
Melissa @ Mommy Living the Life of Riley!