I've always had a love of nature and of all critters, big and small.  It's been my mission to pass this love of nature onto my daughter and honestly, it hasn't been too hard of a sale.  Riley loves being outside and investigating what the world has to offer, so I was thrilled to have the chance to introduce her to the Backyard Safari Outfitters line of toys from Summit Products.
The message of these toys is that there are a myriad of interesting and unusual events taking place right in your own backyard.  You just need the appropriate gear and tools to make it a total adventure!  As a mom, I love any toy designed to get my child outside while learning and interacting with the world around them.  Keep reading to learn more about how Backyard Safari Outfitters does just that!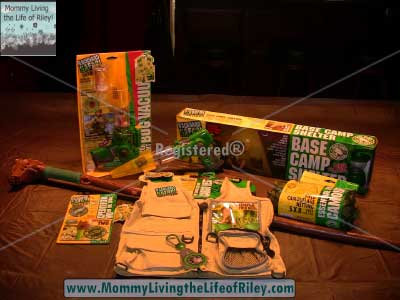 The concept of the Backyard Safari Outfitters toys reminded me a lot of Boy Scouts or Girl Scouts in that you earn merit badges for certain accomplishments.  The first essential item in any journey like this is to have the appropriate uniform.  Where else are you going to be able to display all those badges you earn?
The Essential Field Gear Cargo Vest is a rugged and tough khaki vest with plenty of pockets designed to hold all of your many field guides and smaller gear.  There are also six D-rings to attach the larger items to, such as compasses, lanterns and field tools.  It is a one-size fits most vest designed for children ages 5 and up.
Now that Riley had the appropriate uniform, it was time to set up base camp!  Since she is only two and a half years old, that meant that mom would be earning this merit badge!  I was really impressed with the quality and ease of assembly of the Backyard Safari Outfitters base camp shelter, for it comes in its own drawstring bag for easy transport and storage and consists of very few parts.  There are three poles which are folded up and need to be assembled.
Once that is done, slide the poles in the appropriate slots on the tent, tie a few knots and voila!  You have a really cool place to study the critters you find or hide out and observe nature as it really exists.  The base camp shelter even comes complete with a mini lantern that clips on one of four D-rings hanging from the ceiling, as well as four interior mesh pockets to house your gear.  There's even a small mesh window on the back of the tent so that you can peer out through the back too.
I also love how each activity in the Backyard Safari Outfitters series is presented as a challenge or task for youngsters to complete, thus earning them a badge.  I can't tell you how frustrating it was as a teacher when you realized that your students didn't have the know-how to sit down, read a set of instructions and then follow them.
Believe it or not, this is a skill that should be taught to all children at an early age and I was excited to find that the Backyard Safari Outfitters toys were designed to do just that.  Children will definitely learn perseverance,  patience and problem solving skills by interacting with these toys.
Just in case you want your camp to be hidden from those around you or you want to hide yourself within while still being able to view what's happening outside, then the camouflage covering is a must!  I love how authentic this camouflage looked and how Riley's camp was easily hidden from view, while still allowing her to see out.  This high-quality and durable covering will stretch to accommodate your child's needs as well as resist wear and tear from the elements.
Okay, now that camp is set up, it's time to get out there and start exploring!  In order to help us on our walkabout through the jungles of our backyard, we enlisted the Backyard Safari Outfitters Hiking Stick with wolf head.  This unique hiking stick has a genuine hand-carved look to it and stands 48" tall.  It also has a comfortable green foam handle so that you can walk a great distance without getting blisters!  :)
Riley thought the stick was a horse and kept running around saying "Giddy Up!" as she pretended to ride it.  My husband, Michael, was the one who couldn't put the hiking stick down.  He kept saying to himself that when he was a boy, this would have been one of his favorite toys as he sought to conquer the terrain of his own backyard.
Finally, we end with Riley's absolute favorite toy from the Backyard Safari Outfitters gear we reviewed and that was the Bug Vacuum with Lazer Light.  The bug vacuum gun has three suction settings (high, medium and low) as well as two bug capture tubes which also have a magnifying glass on one end and a wire mesh screen on the other.  This way, the dirt will fall through the mesh screen, keeping only the bug inside.
Then, the magnifying glass helps the child immediately view their latest captured critter.  What's more, with just a quick turn of the magnifying glass, your child can easily release the bug back into nature again, without ever having to directly touch it.  This is an ingenious design, for children aren't known to be gentle and insects are so very delicate.  Now the two can interact without either party getting hurt!
One of Riley's favorite features of the Bug Vacuum with Lazer Light was the lazer light itself.  It glowed red and clipped to the upper barrel of the bug vacuum.  You could turn it on to see better in darker situations and when you wanted to use the light for other things, it detached easily from the bug vacuum.
Riley loved playing with the light and loved the noise the bug vacuum made when the trigger was pulled and the suction came on.  We could hardly pry this toy from her hands once the sun went down and it was time to go back inside.  She didn't catch too many critters with it, but she sure had a ton of fun trying!
If you are wanting to encourage your children to get off the couch this summer and get outside, then I highly recommend the Backyard Safari Outfitters line of toys.  There is no doubt that these toys will have your child excited about learning and discovering what's under every rock and behind every tree.  An educational adventure is waiting for them...in their own backyard!
Additional Fun from Backyard Safari Outfitters:
Disclosure:  I received the Backyard Safari Outfitters items shown above from Summit Products and Team Mom in order to facilitate my review. No other compensation was received. This product review is based on my own personal experiences with this item and is completely honest and objective.
I'm a former 7th grade Science teacher turned stay-at-home mom that lives in Houston, Texas. I am married to my college sweetheart and have a beautiful daughter named Riley, who definitely keeps me on my toes! I am also involved in starting a small business which would both manufacture and sell an invention that I've patented, called Toothpaste 2 Go. I love interacting with my readers and hope to learn as much about you as you learn about me!
Melissa @ Mommy Living the Life of Riley!