Colossal Christmas Countdown:

52 Days Until Christmas!

As my husband and I grow older, we have become increasingly concerned with what we put in our bodies.  Now that we have become parents, we really tend to watch what kinds of food we eat and actually scrutinize the ingredients of those foods we choose to give to Riley.  The one thing that I've become aware of since reading food labels more carefully, is that good foods are hard to find.

It seems that most every product on our grocery store shelves has some variation of preservatives, hydrogenated oils, high fructose corn syrup or artificial sweetener in them.  Thank goodness for Barbara's Bakery, a company that believes in giving it to you all natural!  Recently, I was asked to review the "Gift Box of NO" from Barbara's Bakery and I was thrilled to say "YES!"
I reviewed the "Gift Box of NO" from Barbara's Bakery, which includes the following:

High Fiber Cranberry Cereal (13 oz. box)

Puffins Multigrain Cereal (13 oz. box)

Baked White Cheddar Cheese Puffs (5.5 oz. bag)

Snackimals Chocolate Chip Animal Cookies (2.125 oz. bag)

Puffin Stuffed Animal
I have to admit that I was a little nervous as to how the items included in the Barbara's Bakery "Gift Box of NO" was going to taste, since most things that are healthy tend to lack flavor and are kind of a chore to eat.  Right away, I was excited when I opened up the "Gift Box of NO", for every single product included was one that was already making my mouth water.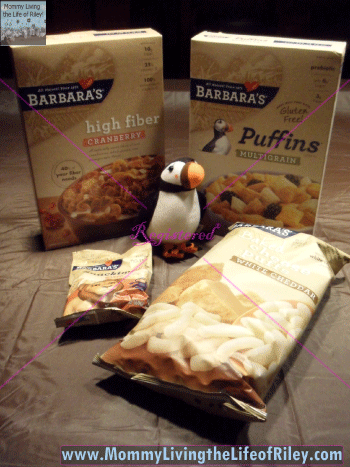 I absolutely LOVE cereal and find myself eating it for snacks, a light meal and sometimes even dessert!  So when Barbara's Bakery had included the High Fiber Cranberry cereal and the Puffins Multigrain, I was ready to dive in and try them.  Just look at what the High Fiber Cranberry cereal had to offer:
30g Whole Grains per Serving - 63% of your Daily Whole Grain Needs
40% of your Daily Fiber Needs
Low Sodium
Good source of Iron, Vitamin D and Vitamin C
No Artificial Flavors, Additives or Preservatives
Considered Vegetarian and Kosher
You might be thinking that this cereal would probably taste like a piece of cardboard, right?  Well, I'm happy to report that both cereals were absolutely delicious!  The whole grain flakes were crunchy and sweet and this cereal had a hint of pomegranate and cranberry sweetness added in.
My favorite though was the Puffins Multigrain cereal.  I loved the lightly sweetened, crunchy puffs of grain and thought that this cereal had just as much, if not more, flavor than any of the artificially sweetened cereals pervading the grocery store shelves.
Here's what the Puffins Multigrain cereal had to offer:
Gluten Free
8g Whole Grains per Serving is 16% of your Daily Whole Grain Needs
High in Calcium, Fiber, Vitamin C, Vitamin D and Iron
Fat Free
Og Trans Fat per Serving
No Artificial Flavors, Additives or Preservatives
Only 6g of Sugar per Serving
Considered Vegetarian and Kosher
The best two items in the "Gift Box of NO" had to be the White Cheddar Cheese Puffs and the Snackimals Chocolate Chip Cookies though!  The cheese puffs had the exact same consistency and texture of the leading brand of cheese puffs, but the flavor was a complete taste explosion in your mouth!
Much better, in my opinion, than the leading brand!  They are also made with real white cheddar cheese, natural stone ground white corn and contain no artificial colors, flavors, hydrogenated oils or preservatives.  If only they contained no calories, because I could really get in trouble with an unsupervised bag of these!  :)
The Snackimals Chocolate Chip Cookies were great too for they tasted so sweet and delicious, that you would never guess how all natural they are.  These cookies are made with real chocolate chips and contain no artificial flavors, colors, preservatives or hydrogenated oils.  They also contain 0g trans fat per serving.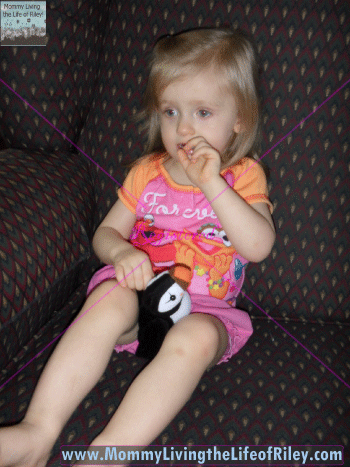 Of course, Riley's favorite part of the "Gift Box of NO" had to be Puffin, the Barbara's Bakery mascot!  She carries him to bed every night and even watches her favorite episodes of Sesame Street with him.
I highly recommend the products I sampled from Barbara's Bakery and love how their company's agenda is to bring you the best tasting, all-natural foods out there.  Now that I've sampled the wonderful cereals and snacks from Barbara's Bakery, I will be actively searching my grocery store's shelves to find more to try!
Disclosure:  I received the "Gift of NO" Box from Barbara's Bakery and

Family Review Network

in order to facilitate my review. No other compensation was received. This product review is based on my own personal experiences with this item and is completely honest and objective.
I'm a former 7th grade Science teacher turned stay-at-home mom that lives in Houston, Texas. I am married to my college sweetheart and have a beautiful daughter named Riley, who definitely keeps me on my toes! I am also involved in starting a small business which would both manufacture and sell an invention that I've patented, called Toothpaste 2 Go. I love interacting with my readers and hope to learn as much about you as you learn about me!
Melissa @ Mommy Living the Life of Riley!