One of my guilty pleasures is watching the hit reality TV show, Jersey Shore.  These people have definitely brought tanning back to the pop culture forefront and have loudly voiced their aversion to all things pale.  Unfortunately, I have been born with extremely fair skin and pale has always been a way of life for me.
When I was younger, I used to tan my skin the old-fashioned way, by laying out in the sun or visiting tanning beds to achieve that healthy, bronzed glow.  But now that I'm older (and a I hope a little wiser), I have given up trying to tan my skin for good.  The sun's rays are very harmful and damaging to your skin and can cause premature aging too, which is definitely something I'm trying to avoid these days.
The kids on Jersey Shore all say that they spray tan as well as sun tan, but honestly, they all look like a bunch of orange messes to me.  I don't want to look like an Oompa Loompa and so have never spray tanned my skin yet.  Beautisol, a trusted leader in sun care, sent me the All Seasons Glow self-tanning lotion and Go Slough Yourself Dual Action Scrub, in order to transform my light skin into beach-ready bronzed skin.  Keep reading to see whether it worked or not!
I would love to have tan skin, for besides having a healthier hue, tanned skin tends to hide minor skin imperfections and even makes you look thinner too!  Unfortunately, when I'm out in the sun, my fair skin will burn and freckle long before it actually browns.  Beautisol's All Seasons Glow is a gradual to medium self-tanning lotion guaranteed to create a healthy-looking tan year-round without the sun.
It is PETA certified and free of parabens, sodium laurel and laureth sulfate.  Most importantly, the All Seasons Glow self-tanning lotion utilizes odor eliminating technology that eliminates the unpleasant processing odor by up to 80% and contains antioxidants that help nourish and revitalize the skin.
In order to get my tan on, I first started with the Go Slough Yourself Dual Action Scrub.  This skin scrub rids you of any dry, scaly skin cells using salicylic acid, which gently clears out your pores and promotes cell renewal.  The little scrubby beads buff away the dead skin cells and the passionflower acts as an antioxidant and anti-inflammatory agent, so your skin is primed and ready for some serious self-tanning!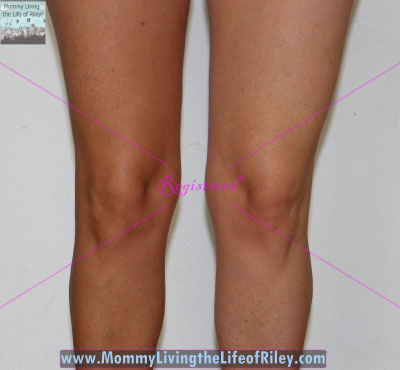 Next, it was time to apply the All Seasons Glow Self-Tanning Lotion.  This silky smooth lotion is used in the same way as a regular skin moisturizer...just apply evenly to the entire body and allow it to dry completely before getting dressed.  I loved how this self-tanner is pre-bronzed, so you can see exactly where you've already applied it, for no guesswork when it comes to even coverage.
What I really loved was how my skin turned a very natural color brown...NO ORANGE WHATSOEVER!  Just check out my left leg above, which has the Beautisol All Seasons Glow Self-Tanning Lotion on it compared to my right leg without any lotion.
If you would like to have a more youthful and invigorating glow to your skin and look sun-kissed and beach ready this summer, then I highly recommend the Beautisol All Seasons Glow Self-Tanning Lotion and Go Slough Yourself Skin Scrub combination.  My skin felt silky smooth and looked gorgeously bronzed after using these two products.  I can't wait to be out at our neighborhood pool in a few weeks, for I finally won't blind everyone there with my paleness!
Additional Self-Tanning Products from Beautisol:
Do you like to be tan during the spring and summer? If so, how do you achieve your bronzed look?
Disclosure:  I received the All Seasons Glow Self-Tanning Lotion and the Go Slough Yourself Dual Action Scrub from Beautisol in order to facilitate my review. No other compensation was received. This product review is based on my own personal experiences with this item and is completely honest and objective.
I'm a former 7th grade Science teacher turned stay-at-home mom that lives in Houston, Texas. I am married to my college sweetheart and have a beautiful daughter named Riley, who definitely keeps me on my toes! I am also involved in starting a small business which would both manufacture and sell an invention that I've patented, called Toothpaste 2 Go. I love interacting with my readers and hope to learn as much about you as you learn about me!
Melissa @ Mommy Living the Life of Riley!