Colossal Christmas Countdown:

59 Days Until Christmas!

Since I love to bake, I always try and come up with a new confectionery treat for my friends and family around the holidays.  I remember one year, I had a smash hit with my Neiman Marcus cookies, the year after that, I made some decadent fudge and last year, my Oreo pie was the talk of the table!

I love all of the cute holiday-themed pans out there, but to be honest, most of the time they either don't fit into my budget, are just not very versatile, or take up a ton of room in my kitchen cabinets.  Well, I've found one of the most versatile and inexpensive holiday baking pans with the Frieling Tannenbaum Pan Set.  This season, I think I just might top myself again!
The Frieling Tannenbaum Pan Set comes complete with two 12" x 9" nonstick pans, which each make seven star-shaped cakes.  These seven cakes gradually decrease in size so that they can be stacked, one on top of the other, to create a unique and delicious Christmas tree!  How festive!
In order to help make the stacking of the Tannenbaum cakes easier, Frieling has also included 25 skewers with this pan set.   The Frieling Tannenbaum Pan Set is made in Germany and even backed by a 5-year warranty too.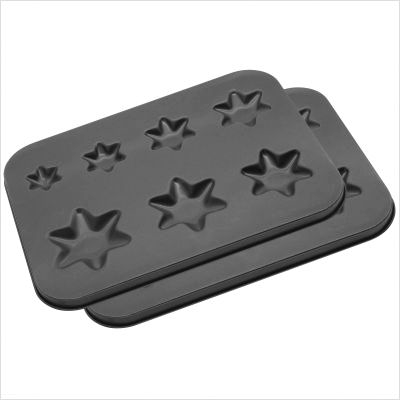 The possibilities are truly endless with this pan set.  I love that the set comes with two non-stick pans so that you can bake two entire Christmas trees or 14 star-shaped cakes at a time.  In order to achieve perfectly formed trees, simply use a pastry brush to apply butter or margarine to the inside of each star.  Then, fill the star shapes with batter and use a straight edge to smooth over the tops of each star so that the batter is level and even inside each shape.  Next, bake the cakes in the oven until the tops of the stars are golden around the edges.
Allow the pans to cool for around 10 minutes and then carefully remove the stars by turning the pan over slowly.  If you'd like to apply either red or green colored icing to your cakes, paint the icing on with a pastry brush and then assemble the cakes on an included skewer.  As a finishing touch, sprinkle the tops of your "Tannenbaum" with powdered sugar for a flocked tree!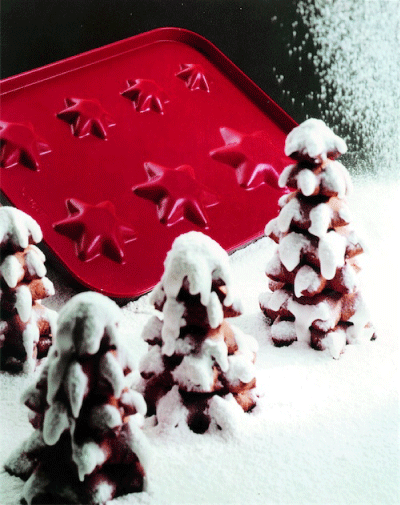 This Thanksgiving, I plan on making a Christmas tree for each one of my dinner guests for dessert.  I will coat each star in colored icing and sprinkle with powdered sugar, as well as use icing to apply tiny Christmas ornaments to each of my trees.  I think it would also be fun to utilize Christmas shaped sprinkles and silver ball sprinkles to act as ornaments too.
For my husband, who doesn't like much icing, I will probably just leave the cakes as they are and sprinkle with powdered sugar and drizzle with honey.  Christmas morning, I plan on making blueberry muffin trees for everyone to eat and I am curious to see how pancake batter would work too.  I think my daughter would have way too much fun drowning her Tannenbaum in maple syrup!
If you are looking for a fun and cost-effective way to brighten the holidays and issue in a scrumptious dessert, then I highly recommend the Frieling Tannenbaum Pan Set.  These two pans have so many different ways they can be used, and every one of them is guaranteed to bring a smile!
Disclosure:  I received the Tannenbaum Pan Set from Frieling in order to facilitate my review. No other compensation was received. This product review is based on my own personal experiences with this item and is completely honest and objective.
I'm a former 7th grade Science teacher turned stay-at-home mom that lives in Houston, Texas. I am married to my college sweetheart and have a beautiful daughter named Riley, who definitely keeps me on my toes! I am also involved in starting a small business which would both manufacture and sell an invention that I've patented, called Toothpaste 2 Go. I love interacting with my readers and hope to learn as much about you as you learn about me!
Melissa @ Mommy Living the Life of Riley!