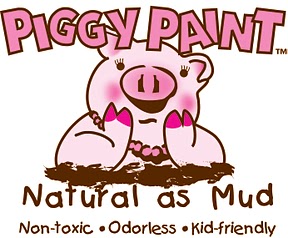 For the last few weeks, my daughter Riley has been all about playing "This Little Piggy Went to Market" with her toes.  Since she was having us pay all of this extra attention to her little piggies, I thought that she'd really enjoy having me paint her toenails as well.
Now, she's only 17 months old, so I didn't want to use just any nail polish.  It had to dry really fast (because you know toddlers can't stay still for very long) and I wanted it to be non-toxic, just in case she decided to put those little painted piggies in her mouth!  Fortunately, there is such a product out there and its name is Piggy Paint.

The nail polishes are typically $8.99 each and the nail polish remover is $8.99 as well.  Piggy Paint does have some different gift set options available too.
Why is Piggy Paint™ Nail Polish the safe nail polish?

Non-toxic
Low Odor
Water-based formula
Hypoallergenic
Fun, vibrant colors
Dries to a hard, durable finish

Piggy Paint™ is specially formulated from God's natural ingredients and dries to a hard, durable finish. There are no toxic chemicals; it's free of formaldehyde, toluene, phthalates, Bisphenol A, ethyl acetate and acetone. Click here to see how our polish compares!

Say good-bye to harsh, smelly chemicals and hello to Piggy Paint™…it's as Natural as Mud!

Piggy Paint™ Ingredients

Water, water-miscible acrylic resins and thickeners (well below 100 parts per million), glycol ethers. May contain mica, D&C red lake, ultramarine blue, iron and titanium oxide pigments.

Wash hands with soap and water.
Apply 2 -3 thin coats of Piggy Paint™.
Air dry 60 seconds.
Blow dry polished nails for 1 minute with hair dryer set on warm heat/low blower setting. For safety purposes, please follow manufacturer's instructions on blow dryer and always monitor your child.

Since most young children are squirmy during the drying process of any polish, we suggest singing songs to pass the time. Two rounds of the "ABC's" should make 60 seconds pass by very quickly. Make "Piggy Painting" a bonding experience for you and your child.
In order to facilitate my review, Piggy Paint sent me a bottle of Forever Fancy nail polish and a bottle of their all-natural nail polish remover.  I really like the shimmery pink color and since Riley does tend to wear a lot of pink outfits, I thought this would match perfectly!
I shook up the nail polish really well and the first thing I noticed when I took off the top was that there wasn't any smell to the polish.  I guess I'm used to my nail polish which has a very strong chemical smell to it and even makes my hands smell like it for several hours after I paint my nails.  This wasn't the case though with Piggy Paint.
I put Riley in my lap and began painting her big toe.  She was so curious about what I was doing and that her nails were turning colors right before her eyes, that she didn't even squirm very much or try to run away.  I talked to her very softly while I painted her nails and she stayed still.  I blew on her toes several times after I was finished.  This also kept her still, because she didn't know what the heck I was doing!
After about a minute and a half, I let her down to play again.  She was walking on our beige carpet, which I was expecting to be speckled with pink at any minute, but it wasn't!  Piggy Paint really did dry in 60 seconds!  Riley began grabbing her toes to inspect what I had done and the nail polish didn't get all over her either!  SUCCESS!
This was a very fun thing to do with her and it turned out perfectly!  Pretty piggies and no mess or tears!  The nail polish also dried to a hard finish and didn't chip either, so her little toes still looked beautiful even after hours of playing in her bare feet.
STRENGTHS:
Nail polish is all natural and non-toxic
It didn't have any nasty chemical smell
It went on smoothly and I only needed one coat to cover
It really did DRY IN 60 SECONDS!
There are a lot of fun, vibrant colors to choose from
The nail polish remover worked well and didn't have any odor either

WEAKNESSES: I don't really feel that there are any weaknesses with this product except possibly the price of $8.99 per bottle.  Many folks might think that price is a little high for a bottle of nail polish.  I do believe though that in the end it will be worth it since we are sure to have many hours of fun painting each others' nails safely.
I think that all mommies of little girls should do things like this from time to time with their daughters!  It was a very fun experience and I felt like Riley and I had some quality "girl time" by painting her toes.  When she gets a little older, I'll add her fingernails to the list as well as her toes and maybe then, I'll even let her paint mine!
The good thing is that Piggy Paint takes all of the unhealthy aspects out of this experience with their natural nail polishes and nail polish remover and leaves in the fun!  I think I've found a stocking stuffer that my daughter will be receiving for years to come!

Disclosure:  I received the bottle of nail polish remover and Forever Fancy nail polish from Piggy Paint in order to facilitate my review. No other compensation was received. This product review is based on my own personal experiences with this item and is completely honest and objective.
I'm a former 7th grade Science teacher turned stay-at-home mom that lives in Houston, Texas. I am married to my college sweetheart and have a beautiful daughter named Riley, who definitely keeps me on my toes! I am also involved in starting a small business which would both manufacture and sell an invention that I've patented, called Toothpaste 2 Go. I love interacting with my readers and hope to learn as much about you as you learn about me!
Melissa @ Mommy Living the Life of Riley!