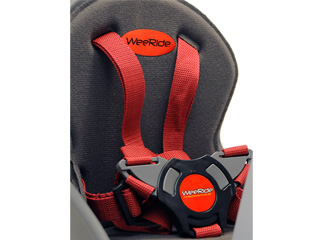 Now that the weather is WONDERFUL outside, I've been longing to ride my bike around our neighborhood.  In Texas, we usually only have about another month or so until the temperature starts climbing and you'll start breaking a sweat just standing outside!
Of course, I can't leave my child behind and just take off without her, so I'm very happy that I had the chance to review the WeeRide Kangaroo Center-Mounted Bicycle Child Carrier!  This way, we can both get some fresh air, enjoy this perfect weather and explore the great outdoors together!

New sleeker design
Adjustable foot cups
Same safe passenger position as the Classic  (not for use with children weighing over 40 pounds)
New design mounting bar for easier setup
New color - rich gray with red straps
Child is visible at all times by rider
Child's needs can be heard, seen and attended to more easily
Child's weight enhances rather than impairs bicycle stability
Interesting view for child - no more staring at someone's back!
Better communication between adult and child
More comfortable, enjoyable riding experience for child
Improved balance for rider due to child's central position on bicycle
Enhanced safety because adult's arms surround child
Easy to remove child carrier for riding alone
In order to facilitate my review, WeeRide sent me the Kangaroo Center-Mounted Bicycle Child Carrier.  I opened the box and was happy to find that there weren't many pieces inside!  That's usually a good sign of an easy installation.
My husband helped me to install this on my Schwinn 10-speed bicycle.  I am very glad he did, because this is definitely a two person job.  It's not that the installation was complicated, it's just that you need to have one person holding the mounting bar straight while the other person is attaching it to the bike's frame.
| | |
| --- | --- |
| | |
The only mistake we made when installing the mounting bar came in the second picture shown above.  We accidentally attached the rear part of the mounting bar to the bicycle's frame too, instead of to the bike seat post.  This caused the mounting bar to sit at an angle, instead of sitting exactly straight across, which is what it's supposed to do.  Once we realized our error, we quickly fixed it and then attached the child's seat to the mounting bar.  The good thing about the way the child's seat attaches, is that you can easily remove just the seat so that you can ride alone on your bike just as easily as you can ride with your child.  Now, it was time to test drive the bicycle without my daughter, just to make sure everything was working properly and that the seat wasn't interfering with either the bicycle or with the way I rode it.
The only thing I noticed about the child carrier is that it does interfere with your riding somewhat.  It seemed that I had to open my legs wider to accommodate the child seat and that caused me to have to ride with my legs bowed out a little.  This wasn't that bad of a problem though, and maybe it could have been because my bike is shorter between the seat and the handlebars than other bikes.  If there would have been room to move the child carrier forward another 2-3 inches, then I wouldn't have had this rubbing of my inner thighs.  Since the picture on the box and on the website shows much more room between the bike seat and the back of the child carrier, I'm assuming that my Schwinn 10-speed is made a little differently and is shorter in this area.
Now, came the ultimate test...riding with my daughter, Riley!  I was excited to see if she would like her first real bike ride or not and how she would like sitting in the carrier.  We got her all suited up for safety and we put her in the carrier seat.  I felt that she was very safe and secure while in this seat.  She was harnessed in the same way a child is harnessed into a car seat.  Also, she had the little foot buckets where she could put her feet, so she wouldn't be dangling them anywhere, risking injury to both of us.  She didn't know what to think when we put her in the carrier, but she seemed very comfortable.
| | |
| --- | --- |
| | |
As soon as we took off, Riley couldn't stop smiling!  She placed her hands on the wide rest section in front of her and kept her feet in the little buckets.  My husband watched us ride around and he said that she was having an absolute ball!  I loved that my arms were serving as additional protection for her and that she was in front of me so that I could see what she was doing at all times without having to take my eyes off the road.  The bike was also amazingly easy to control since she was positioned in the center of the bike, instead of at the rear.  We had such a good time on the bike that after I rode her around for a while, she didn't want to get off...so it was Daddy's turn to take her out!
| | |
| --- | --- |
| | |
He agreed that the bike was very easy to control and that he felt she was very safe riding in the child carrier too!  This is truly a terrific product and I can guarantee you that I will be putting it to very good use this season!  If you see us out and about one day, make sure to WAVE HELLO!  :)
STRENGTHS:
Easy to install with very few parts

Child attached to carrier using a 5-point harness, just like in car seats

Child carrier can easily be removed for biking both together and alone

Bicycle is easier to control since the child is placed in the middle of the bike, instead of at the rear

Parent can easily see what the child is doing at all times

Parent's arms wrap around child and act as another safety feature

Can use with children weighing up to 40 pounds, meaning we will get years of use out of this child carrier


Child has a great view of your environment, instead of your back!
WEAKNESSES:
Installation of the seat does take two people

The child carrier does cause you to ride with your legs further apart than they would normally be.  This could cause your ankles and legs to fatigue more quickly.



BOTTOM LINE:
I think that the WeeRide Kangaroo Center-Mounted Bicycle Child Carrier is a great investment for any parent who loves to ride his/her bike and wants an economical and safe way to bring their child along!  There are a ton of pluses with this product and very few drawbacks, making it a great buy for the fair-weathered seasons ahead!
Disclosure:  I received the Kangaroo Center-Mounted Bicycle Child Carrier from WeeRide in order to facilitate my review. No other compensation was received. This product review is based on my own personal experiences with this item and is completely honest and objective.
I'm a former 7th grade Science teacher turned stay-at-home mom that lives in Houston, Texas. I am married to my college sweetheart and have a beautiful daughter named Riley, who definitely keeps me on my toes! I am also involved in starting a small business which would both manufacture and sell an invention that I've patented, called Toothpaste 2 Go. I love interacting with my readers and hope to learn as much about you as you learn about me!
Melissa @ Mommy Living the Life of Riley!