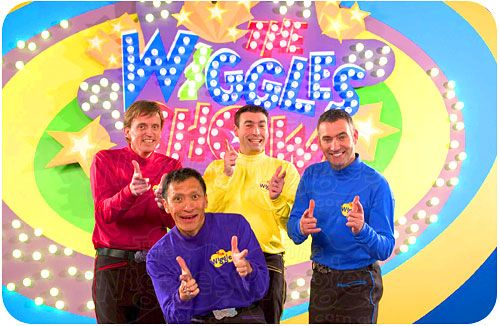 Call me clueless, but I was totally unaware of the high-flying children's sensation, The Wiggles!  I never knew that they had their own hit television show, DVDs, CDs, etc.  Apparently, they were even on Jimmy Kimmel's talk show recently.  Where have I been?  I did know a little about The Wiggles, but only by accident.
While at a used bookstore one day, buying books for Riley, I stumbled across a copy of The Wiggles: Wiggly Safari book.  Since Riley loves animals so much, I bought this for her and she still loves reading that book.  So, when I heard that The Wiggles were actually going to be performing live in Houston at the Verizon Wireless Theater, I have to admit that my curiosity was piqued.
What do these four Aussies do that entertain the children so much and why are they a worldwide sensation?  Read on to find out!
Our family was very excited to see The Wiggles on tour last Sunday, since they are currently performing the show, Wiggly Circus.  I just love the circus and wanted to see what The Wiggles' spin on this classic theme would be!  Riley wanted to wear her Elmo shirt  this day...I guess it isn't cheating to show up wearing the shirt of another huge childhood superstar at The Wiggles show!  :)
The Verizon Wireless Theater was laid out in a very child-friendly way.  There was a huge open floor area lined with chairs and several aisles.  The stage was easily seen and already looked intriguing with the large Wiggly Circus tent and trapeze in the corner.  A neat idea that I'd never seen before, was that there was a Wiggles activity guide and a pack of genuine Wiggles crayons waiting on every seat to occupy the "little guests" until the show started.
When the Wiggles appeared on stage, the crowd erupted and all of the children went wild!  There was so much singing and dancing, twirling and jumping about...and that was just the audience!  It really was too cute to watch all of the children having such a good time and being mesmerized by their favorite Wiggle all at the same time.
It was easy to see why they were so loved.  The show was full of lively singing and dancing from beginning to end.  There were multiple choreographed routines, performed by not only the Wiggles themselves, but also by their crew of accompanying acrobats.  The Wiggles played instruments, performed all sorts of flips and flops and interacted constantly with the crowd.
They even talked and joked a little on the parents' level, so that there truly was something for everyone.  I found myself singing and clapping along and was laughing the entire time.
Riley was mesmerized and wouldn't take her eyes off the stage, even to eat a quick snack (as shown in the very last picture).  She especially loved Dorothy, the green dinosaur and the big brown dog.  Riley got down from her chair several times to sing, clap, jump and dance, while her father and I grinned with glee!  She was having such a great time!
What I thought was really classy, was that at one point all of the Wiggles, including the Ring Master and several of the acrobats, came into the audience and actually shook hands and met some of their fans.  This one little boy, who didn't stop dancing and singing the entire show, almost fainted when Murray came down and shook his hand!  It was so cute!
If you are looking for a great day to spend with your family, then I highly recommend going to see The Wiggles On Tour.  There is plenty of music, dancing, comedy and high-flying action to keep grins plastered on everyone's faces!  I may not have known who the Wiggles were before, but since seeing the Wiggly Circus, Jeff, Murray, Anthony and Greg have all found a way into our hearts!
Disclosure:  I received four tickets to see the Wiggles in Houston, Texas from the

US Family Guide

Network in order to facilitate my review. No other compensation was received. This product review is based on my own personal experiences with this item and is completely honest and objective.
I'm a former 7th grade Science teacher turned stay-at-home mom that lives in Houston, Texas. I am married to my college sweetheart and have a beautiful daughter named Riley, who definitely keeps me on my toes! I am also involved in starting a small business which would both manufacture and sell an invention that I've patented, called Toothpaste 2 Go. I love interacting with my readers and hope to learn as much about you as you learn about me!
Melissa @ Mommy Living the Life of Riley!