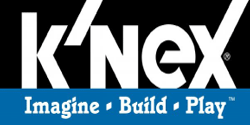 I've been a fan of K'NEX toys for many years now.  As a former Science teacher, one of the units my students couldn't wait to get to was the Physics unit.  Believe me, it wasn't that students like Physics...NOT HARDLY!  It was because I used the K'NEX Amusement Park set to help teach it.
This set encouraged teamwork, problem solving, and social and cognitive development, in addition to teaching Physics!  I always knew that when Riley was older, I would buy her some K'NEX toys because they fostered such creativity and imagination in older children.  So of course I was thrilled when I discovered that K'NEX also has toys geared for children ages 2-5 years old!  Fortunately, I was able to review the new Sesame Street Collection of toys from K'NEX.
I don't think K'NEX could have chosen a better theme for toddlers than Sesame Street!  As a kid, I can remember watching it all the time and I think they are one of the few shows still left on TV which show quality educational programming for youngsters.  When Riley saw the five toys I received from K'NEX, her face literally lit up!
She started dancing around the room and singing with delight.  Of course, she was also chanting "Bobo" over and over again, which is what she calls Elmo.  Now, she's only 19 months old, so she is a little younger than the recommended age for these toys, which are geared for 2-5 year olds.
The Sesame Street Neighborhood Collection 1-2-3- Brownstone Building Set (40 pieces) was a toy that was a little too sophisticated for Riley to completely appreciate at her age.  She did really enjoy playing with the Elmo and Cookie Monster figurines that came with the set and she also found the trees pretty interesting too.  I used the directions included and assembled the brownstone building for her.
She liked opening and closing the windows on the brownstone, but she's a little too young to do much building here.  This will be a great toy for her to grow into though!  The only thing I noticed was that the building kept falling down after it was assembled and it seemed like it might have needed a few additional parts to provide a sturdier base.
The Sesame Street Neighborhood Collection Police Station Building Set (44 pieces) was even more advanced than the Brownstone Building Set.  I really had to look closely at the directions when assembling this building.  The policeman Ernie and the traffic light both seemed to hold Riley's attention though.  The great part about K'NEX toys is that the pieces can be assembled in all sorts of wacky ways which even very young toddlers will find amusing.
Riley kept sticking the traffic pole in the hole in Elmo's head and didn't think there was anything wrong with it because it fit!  I think only the older children will be able to assemble the building without their parents' help, but that doesn't mean that the younger children won't still have a great time with this toy.  (The stop sign was missing from the Police Station set I received, and instead I was given an extra blue block.  This is why the stop sign is not pictured above).
The Kick It! Elmo, Swim Time Ernie and Cookie Monster's Basketball Building Sets were definitely Riley's favorites!  She played with these toys ALL DAY LONG and never let them out of her sight, even while she was eating and having her diaper changed!  These toys contained fewer parts (13-15 parts per building set) and the pieces were much larger, which are easier for smaller hands to manipulate.
I believe that Riley is the perfect age for these toys and although she couldn't put the pieces together easily and did require my help, she was able to tear them apart.  I think that this is a set of toys she will love for many years and can grow into as her skill sets develop.  The great thing about these building sets is that all of the body parts are interchangeable!
Riley was already putting Elmo's shoes on Cookie Monster's feet and making Elmo wear Ernie's goggles.  These toys were also fun because Riley could show off her knowledge of the body by pointing to Ernie's feet and Elmo's eyes when I asked her to.
If you need any further proof as to how much my daughter loved the Sesame Street Building Sets from K'NEX, just look at the pictures above of her playing with Swim Time Ernie and the video below of her dancing with, singing to, and even kissing Kick It! Elmo!
Riley has had many toys so far in her 19-months of life, but I really can't think of any she has liked better than the Sesame Street building sets from K'NEX!  Although the 1-2-3 Brownstone and Police Station building sets are a little too old for her to fully enjoy right now, she absolutely adores the Cookie Monster's Basketball, Swim Time Ernie and Kick It! Elmo building sets!
They have large parts that she can easily grab and manipulate and K'NEX couldn't have chosen better characters for this age group than those from Sesame Street!  The best part is that all of the pieces are interchangeable with each other, so the combinations and possibilities are endless.  I love toys that challenge Riley at many different developmental stages as well as foster creativity and imagination, and these Sesame Street K'NEX toys definitely do!
More K'NEX Sesame Street Building Toys:
Disclosure:  I received the Sesame Street Collection 1-2-3- Brownstone, Police Station, Kick It! Elmo, Swim Time Ernie and Cookie Monster's Basketball Building Sets from K'NEX in order to facilitate my review. No other compensation was received. This product review is based on my own personal experiences with this item and is completely honest and objective.
I'm a former 7th grade Science teacher turned stay-at-home mom that lives in Houston, Texas. I am married to my college sweetheart and have a beautiful daughter named Riley, who definitely keeps me on my toes! I am also involved in starting a small business which would both manufacture and sell an invention that I've patented, called Toothpaste 2 Go. I love interacting with my readers and hope to learn as much about you as you learn about me!
Melissa @ Mommy Living the Life of Riley!