Speaking as someone who hasn't been blessed with trouble-free skin, I've spent my life searching for the perfect skin care regimen for my particular set of skin challenges.  Basically, I need a system which can hydrate and moisturize well, while keeping my Rosacea flare-ups to a minimum.  I also would love a skin care system that brightens and tones my skin, while lessening the look of fine lines and wrinkles as well as helping to remove prior sun damage.
Of course, in a perfect world, I would also love to find an all-natural skin care regimen too, free from loads of harmful chemicals and toxins.  Sounds like a tall order, right?  That's why I'm very excited to have the chance to review the Sibu Beauty line of Sea Buckthorn skin care products.  Keep reading to learn much more about them as well as whether or not they worked for me!
I reviewed the following skin care products from Sibu Beauty:

Sea Buckthorn Balancing Facial Cleanser, which retails for 17.95.

Sea Buckthorn Replenishing Night Cream, which retails for 34.95.

Sea Buckthorn Hydrating Serum, which retails for $39.95.
Sibu Beauty is an eco-friendly company that strives to keep you looking beautiful while respecting the Earth's fragile resources.  They have derived an entire skin care line around the use of sea buckthorn berries, which are a naturally, sustainable resource, growing wild in the high altitude of Tibet.  They are also a fair trade company that promotes fair wages, environmentally safe processing techniques and healthy work conditions for the villagers that harvest these berries.
Now if you're like me, you probably have never heard of sea buckthorn berries.  But Sibu Beauty selected these magnificent berries for many reasons.  Sea buckthorn is designed to provide advanced restorative skin care from within by addressing both internal and external aging factors.  This ancient berry has a written history of use in treating and soothing damaged skin, healing wounds and even part of a nutrition program for Russian cosmonauts.
Sea buckthorn contains protective nutrients including vitamins, A, C, E, K, minerals, carotenoids, flavonoids, antioxidants, polyphenols and phytosterols.  In fact, over 190 bioactive nutrients have been found in this important fruit of the Himalayas.  Sea buckthorn is also loaded with essential Omega fatty acids 3, 6 and 9.  It is even a rich source of the elusive Omega 7 fatty acid, commonly known as Palmitoleic Acid.
Of course, Sibu Beauty products are also 100% natural, free of any and all preservatives.  They contain no wheat, gluten, dairy, sodium, yeast or paraben either.
I used the Sea Buckthorn Balancing Facial Cleanser, Hydrating Serum and Replenishing Night Cream together as a system for maximum results, though they can also be used individually too.  Here are my experiences and more information about each skin care product:
Sea Buckthorn Balancing Facial Cleanser: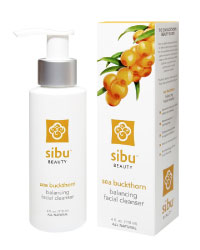 The Sibu Beauty balancing facial cleanser is a non-foaming gel formula which can be used by all skin types.  This all-natural balancing facial cleanser will gently remove dirt, impurities and makeup while maintaining a healthy balance in your skin.  It also contains micro-particles for a gentle exfoliation.  I loved the pungent citrus aroma of this cleanser, which really helped perk me up in the morning.
A little of this gel cleanser will go a long way and I found my face feeling fresh and clean in no time.  I liked the tiny amount of scrubbing particles in this cleanser, which will help clear away the dull skin cells and unclog pores, but is gentle enough so as not to aggravate my Rosacea.  My skin even felt slightly moisturized after using the balancing facial cleanser.
Sea Buckthorn Hydrating Serum: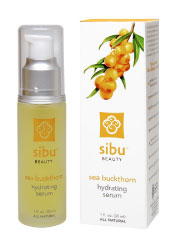 Next, I would apply the hydrating serum to my freshly cleansed face.  This serum is designed to be applied both morning and night to deeply hydrate your face and neck, eliminating the tight, dry feeling caused by dehydration.  This serum also promotes youthful skin tone and texture, brightens complexion and evens out skin tone and helps protect against environmental stress.
This super serum even stimulates your own collagen production, naturally, and fights age without damaging chemicals.  I found this serum to have the consistency of water and to be absorbed immediately into the skin.  Its scent was very faint and definitely moisturized well without feeling like I had anything at all on my skin.
Sea Buckthorn Replenishing Night Cream: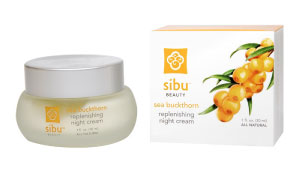 Finally, I would apply the replenishing night cream to my face and neck right before bed.  This night cream will smooth the appearance of fine lines and wrinkles as well as protect the skin's lipid barrier.  It is also designed to stimulate the skins natural cell renewal cycle and even reduce visible sun damage!
I was thrilled to discover that the night cream would actually help me battle my skin's previous sun damage, for most products do not make this claim.  The night cream was so very thick, yet glided effortlessly onto my skin and absorbed immediately.  I was really surprised at how lightweight my skin felt afterwards, without any trace of greasiness.  It felt so very soft and supple with just the first use.
I have to admit that after only two weeks of use, I can tell an improvement in my skin.  It feels much smoother and my pores have also appeared to get smaller.  I've also noticed a new brightness and healthy glow to my skin that I didn't have before.  Thankfully, my Rosacea seems to agree with the Sibu Beauty Sea Buckthorn skin care products, for I haven't had a major flare-up since using these.  I think I may have finally found what I've been searching for in a perfect skin care regimen!
Disclosure:  I received the Balancing Facial Cleanser, Replenishing Night Cream and Hydrating Serum from Sibu Beauty in order to facilitate my review. No other compensation was received. This product review is based on my own personal experiences with this item and is completely honest and objective.
I'm a former 7th grade Science teacher turned stay-at-home mom that lives in Houston, Texas. I am married to my college sweetheart and have a beautiful daughter named Riley, who definitely keeps me on my toes! I am also involved in starting a small business which would both manufacture and sell an invention that I've patented, called Toothpaste 2 Go. I love interacting with my readers and hope to learn as much about you as you learn about me!
Melissa @ Mommy Living the Life of Riley!