Colossal Christmas Countdown:

68 Days Until Christmas!

My husband has a very tough beard and has heard at least a hundred times that in order to get a close and smooth shave (which I especially like), that he should always shave while in the shower.  The heat and steam generated while in the shower helps to open your skin's pores and make your skin more pliable, which is perfect for shaving, exfoliating, tweezing and washing your face.

Unfortunately, we could never find a quality shower mirror which would stay adhered to our bathroom wall as well as not fog up from the steamy water.  Toilettree Products claims to make a truly fogless shower mirror which they also say will stay put on your wall and not fall off.  This I had to see and was glad that they gave me a chance to review it.  Keep reading to see whether or not this mirror could stand the heat!
I reviewed the
Fogless Shower Mirror
from ToiletTree Products, which retails for $39.95, but is currently on sale for only $29.95 with FREE SHIPPING.
The ToiletTree Products Fogless Shower Mirror is designed to be fogless for a lifetime without using sprays, chemicals or special coatings.  The secret?  There is a small reservoir in back of the mirror which is to be filled with warm or hot shower water before each use.  Fog is a form of condensation and condensation can only occur on cool or cold surfaces.  This is why your iced beverage always forms condensation on the outside of the glass, but hot beverages do not.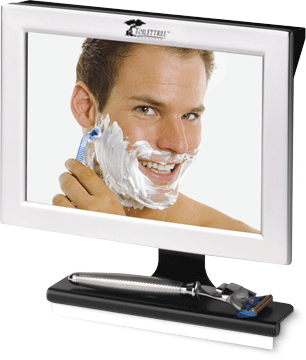 STAY IN TOUCH: Want to be in the loop? You can also check out ToiletTree Products on the following sites:
TOILETTREE PRODUCTS
By heating up the mirror itself with the hot shower water, the mirror will truly remain fogless throughout your shower without the need for any special coatings or chemicals.  Simply fill up the reservoir before each use and empty the water out of the reservoir after your shower is over.
The ToiletTree Products Fogless Shower Mirror is also shatterproof, rustproof, and will adhere to almost any surface using their included double sided tape and removable silicone adhesive.  Since there are no suction cups of any sort being used here, I knew that more than likely the Fogless Shower Mirror would actually stay put this time!
Next, it was time to adhere the mirror to my bathroom wall.  I have a tiled shower, so I found the perfect spot (I thought) and then applied the silicone adhesive and double sided tape to the specially marked spots on the back of the bracket.  Unfortunately, I didn't read the instructions carefully enough and ended up putting the mirror too high on the wall.  The Fogless Shower Mirror is adjustable and the bracket will easily pivot the mirror, but I still put the mirror too high even after trying to adjust it.
This meant that I now had the chance to test