DOES  THIS  LOOK  LIKE  YOU?
Being a mom is an extremely hectic job at times, and if you happen to be juggling a career too, then your multitasking can quickly spiral out of control.  Personally, I find myself running around like a chicken with my head cut off most days, since I am a stay-at-home mommy to my 3-year-old, a full-time blogger AND the president of my family's small business.  WHEW!  :whew:
I'm always appreciative of any product that can make my multitasking a little easier, which is why I was thrilled to discover the VTech LS6475-3 Two Handset Cordless Answering System with Cordless Handset.  Keep reading to learn more!

The VTech LS6475-3 is a cordless phone with all of the bells and whistles a busy mom needs to manage her day.  I find myself on the phone quite a bit while caring for my toddler, doing the laundry, cooking meals and checking email.  The VTech LS6475-3 allows you to better multitask while on the phone, thanks to the included cordless headset.
Now I can enjoy the freedom to have a private cordless hands-free conversation absolutely anywhere in my home.  The DECT 6.0 cordless headset gives the same interference free, superior sound and long range you receive with the traditional handset.  With both hands free to take care of my many other daily duties, I can be more efficient and less frazzled while trying to tackle my never-ending to-do list.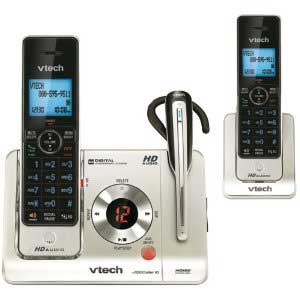 The LS6475-3 cordless answering system from VTech includes 2 handsets yet requires only one phone jack.  The additional handset can be placed absolutely anywhere in your home or office where you have an electrical outlet and does not require a phone jack.  This system is also expandable up to 12 devices, with 2 of the devices being cordless headsets, using just ONE phone jack!  Now every person in your home can have their very own handset for the utmost in household communication.
Why would it be a great idea for each family member to have their own handset?  Because the VTech LS6475-3 cordless phone also has a push-to-talk feature so that each member can communicate with each other via the handset, walkie-talkie style.  No need to shout throughout the house anymore!  :party:  That's a huge bonus in my book.
Another wonderful benefit to using the VTech LS6475-3 is the Voice Announce Caller ID.  Now, I don't have to stop what I'm doing and try to locate the nearest handset when the phone rings.  This cordless answering system loudly announces the name or number of the caller on the other end of the line.  This makes screening calls much easier, which is definitely important to a busy mom.
I don't know how many times I almost broke my neck racing across the house to answer the phone, only to be connected with another telemarketer.  This way, if I'm right in the middle of something, I can know instantly whether this is a must-take call or not.
Finally, the VTech LS6475-3 delivers crystal clear sound that's rich and life-like.  The frequency band of this particular cordless phone has been extended allowing for the signal to be reproduced and tuned for a fuller and clearer sound.  Choose from 4 different profiles to match your hearing from the built-in equalizer.  Need even more reasons to try the VTech LS6475-3 cordless answering system for yourself?  Okay, you asked for it!
Features:
Hearing Aid Compatible.
 Energy Star Compliant.
 VTech supports RoHS initiatives by reducing the use of hazardous substances including lead, mercury and cadmium.
 Audio equalizer allows you to choose from 4 different profiles to best match your hearing.
 Caller ID/Call waiting stores 50 calls
 Slim handset size.
 Stylish metallic finish.
 Audible time and date stamp on recorded messages.
 Backlit message counter.
 Remotely retrieve messages on the digital answering system.
 Retrieve messages on the digital answering system from the handset.
 Blue backlit keypad and display.
 Expand this system up to a total of 12 cordless handsets and 2 cordless headsets.
 Excellent range, up to 500 feet.
 Protect yourself from identity theft with digital security. Your call is digitized and encrypted, making it nearly impossible for someone to eavesdrop.
 DECT 6.0 digital technology provides the best sound quality, security and range in cordless phones.
 Multiple over the ear and over the head wearing styles.
 Trilingual prompts allow you to choose between English, Spanish or French.
 50 name and number phonebook directory.
 HD Audio provides an extended frequency band allowing for the signal to be reproduced and tuned for a fuller and clearer sound.
 Voice Announce Caller ID audibly announces the name and number of the caller on all of the handsets and base unit. No need to find the handset to see who is calling. Makes screening calls that much easier.
 Push-To-Talk acts as a multiple handset walkie talkie system to instantly communicate with any or all of the handsets within the system.
 Digital answering system with 14 minutes of recording time. No tapes or moving parts.
 Enjoy the freedom to have a private, cordless, hands-free conversation anywhere in your home or office. This DECT 6.0 cordless headset gives you the same interference free, superior sound, and long range you expect with a traditional DECT 6.0 cordless handset.
 Interference free for crystal clear conversations. Won't interfere with wireless networks and other wireless devices.
 With the touch of a button, the handset speakerphones makes hands-free conversations easy.
 Handset volume control.
If you're a super duper busy mom like me, then by all means, start streamlining your household communication efforts with the VTech LS6475-3 Two Handset Cordless Answering System!  Thanks to this amazing cordless phone, I now have one more hand free to do another task...  With that kind of power, I just might take over the world one day!  :rofl:
Stay up-to-date with all the latest from VTech by liking them on
Facebook
and following along on
Twitter
.
Okay, busy moms... Do you have any tricks of the trade for how to accomplish more during the day or just how to stay sane? Please leave a comment sharing your secrets!
Disclosure:  I wrote this review while participating in a campaign by Mom Central Consulting on behalf of VTech and received a product sample to facilitate my review.
I'm a former 7th grade Science teacher turned stay-at-home mom that lives in Houston, Texas. I am married to my college sweetheart and have a beautiful daughter named Riley, who definitely keeps me on my toes! I am also involved in starting a small business which would both manufacture and sell an invention that I've patented, called Toothpaste 2 Go. I love interacting with my readers and hope to learn as much about you as you learn about me!
Melissa @ Mommy Living the Life of Riley!