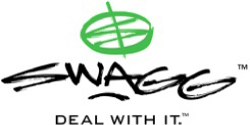 Recently, I learned that around 6-10% of gift cards go unused, quite possibly because they have been lost or accidentally thrown away.  Personally, I have a ton of gift cards with balances on them, so much so that I even carry a special wallet just for my gift cards.
One thing that I really hate though is not knowing what my actual balances are on these cards.  Most of the time, stores require you to know the EXACT amount on your gift card for you to be able to use it.  So, how can you quickly and easily keep track of your myriad of gift cards without becoming one of the 6-10% of people who have missed out on money awarded them?  Use SWAGG!
SWAGG is a brand new way to organize and store your existing gift cards right on your mobile phone.  Not only will SWAGG keep track of what outstanding gift cards you have, it will also update your gift card balances and you can even redeem these cards in the store using your phone!  Simply ask a sales associate at an authorized SWAGG store to scan the barcode on your mobile phone, and the gift card will be accepted as tender.
SWAGG is a quick and easy way to send your friends and family gifts too. As soon as you select and purchase the gift to be sent, the recipient will be instantly notified. Their gift message will include a note stating what the gift is, who it's from and a unique gift code that should be taken to the store itself or redeemed online, if applicable.
I think this is a terrific idea for keeping track of the ever-popular gift cards you may have lying around.  Don't risk losing these cards or forgetting what your balances may be.  Use SWAGG and keep your money at your fingertips and with you when you need it.  Have an Apple or Droid phone and live in the US?  Then download the SWAGG app now!
SWAGG can also help you deliver a great gift right on time, in case you happened to forget an important date. For instance, if you forget an anniversary or a birthday, SWAGG will deliver the goods on the exact day you remember, without having to wait for shipment with a mail carrier and the gift showing up several days after the fact.
Now, the minute you remember, can be the minute you deliver! There aren't many stores yet affiliated with SWAGG, but I would expect this to change as the popularity of the program increases. Currently, these are the stores you can use to send a gift from: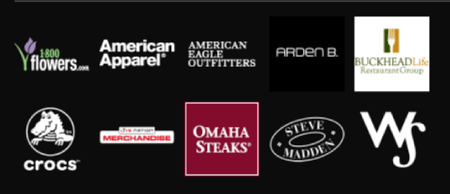 Personally, I'm not thrilled with the selection of stores available from SWAGG right now.  All of the stores listed above are extremely specialized and actually kind of expensive.  If you were to give or receive a smaller amount of money, such as $20, you would have a hard time spending that amount on anything at most of these stores.
I wish that SWAGG also included some larger big box stores, such as Macy's, Kohl's, Walmart, Target, etc.  I do really appreciate though the mobile organization of my gift cards with SWAGG and plan on using this app from now on!
Disclosure:  I wrote this review while participating in a blog tour campaign by Mom Bloggers Club on behalf of SWAGG and received a SWAGG gift card to thank me for taking the time to participate.
I'm a former 7th grade Science teacher turned stay-at-home mom that lives in Houston, Texas. I am married to my college sweetheart and have a beautiful daughter named Riley, who definitely keeps me on my toes! I am also involved in starting a small business which would both manufacture and sell an invention that I've patented, called Toothpaste 2 Go. I love interacting with my readers and hope to learn as much about you as you learn about me!
Melissa @ Mommy Living the Life of Riley!