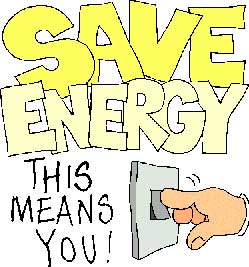 Most people carefully watch their time and money, making sure neither are wasted on unnecessary activities or expenses.  In an effort to be more green, why not also consider how your home's energy is used and how to prevent it, too, from being wasted?
Follow these energy-saving tips from Sally Morse, Director of Creative Services for Hunter Douglas, the leading name in custom window fashions, to conserve your home's resources and your pocketbook as well.
1.    Go Green, Literally
Saving energy in your home isn't entirely based on adjustments made in the home but also changing what is outside of it.  To cut down on utility bills, get a green thumb and strategically update your landscaping.  A natural and beautiful addition, plant deciduous trees on the south and east sides of the house and evergreen trees and shrubs on the north and west to provide shade and act as a windbreaker.
Well-positioned landscaping can save up to 25 percent of your home's energy a typical household uses for heating and cooling according to the world-renowned Lawrence Berkeley National Laboratory.
2.    Insulate Common Energy-Loss Areas
The fastest and most cost-effective way to reduce energy dollars is to seal air leaks.  Find these energy vacuums by holding a lit incense stick on a breezy day near doors, fixtures and windows.  If the smoke travels toward the areas rather than vertically, you've found a leak.  Once identified, simply seal holes by using caulk, spray foam or weather strips.
Common leaks are attic entrances, dropped ceilings, recessed lights, water and furnace flues, ducts, door frames, chimneys, outlets and switches and plumbing and utility fixtures.  Also, be sure to remove air-conditioning units in the fall and winter or use an insulated jacket on the exterior as these appliances invite drafts.
3.    Watch the Windows
Windows can account for up to 25 percent of utility bills by leaking heat in the winter and cool air in the summer.  For a functional and fashionable addition to the home to help prevent this, opt for highly energy efficient Hunter Douglas Duette® Architella® honeycomb shades, which feature an insulating honeycomb-within-a-honeycomb design that traps air.  Certain Duette Architella shades can reduce solar heat gain through windows by up to 80 percent in the summer and reduce heat loss through windows by up to 40 percent in winter.
This spring, three new fabrics and one additional street-side color option have been introduced to the line. These include an opaque fabric option ideal for bedrooms and media rooms for Duette Architella Batiste Bamboo fabric, which is made with sustainable and recycled materials.  In fact, 45 percent of the fabric is bamboo.
Another choice for conserving your home's energy in style is Vignette® Tiered™ Architella® Modern Roman Shades.  This innovative design has rear fabric air pockets that trap air and double the degree of insulation provided by traditional Vignette Tiered shades.  The sound absorption rating is also among the highest of any Hunter Douglas product.
4.     All-Star Accessories and Appliances
When purchasing items that consume energy – everything from light bulbs to appliances – look for the ENERGY STAR® label.  This label ensures you are purchasing an item that will help save you money and help protect the environment.
5.    Clean and Green
Being clean can go a long way when it comes to your home's energy efficiency.  By simply keeping certain appliances in the best working condition you can save on energy costs.  Start by servicing and cleaning your gas or oil furnace at least once a year and change or clear out furnace filters once a month during the heating season.
Wipe or replace filters on air conditioners monthly or as recommended and do the same with warm-air registers, baseboard heaters and radiators as needed.  Also, clean the lint screen in the laundry dryer after every load to increase air circulation and help prevent fire hazards.
6.    Adjust When Away and By Time of Day
Cut down on utility bills while you're away by investing in a programmable thermostat that lets you set temperatures by time of day.  To adjust the window coverings for optimal performance, Hunter Douglas makes a Solar Energy Sensor that mounts directly to the window pane to control motorized window fashions.  It's an easy way to conserve energy without your having to lift a finger.
In "Summer" mode, the sensor will lower shades when the outside temperature is too hot to prevent heat from coming into the room.  In "Winter" mode, the sensor raises the shades at the appropriate time to allow solar energy into the room for warmth and closes the shades automatically when the temperature outdoors drops, keeping the warm air inside.
Try these energy-efficiency tips to help save on utility bills while making your home more comfortable. 
I'm a former 7th grade Science teacher turned stay-at-home mom that lives in Houston, Texas. I am married to my college sweetheart and have a beautiful daughter named Riley, who definitely keeps me on my toes! I am also involved in starting a small business which would both manufacture and sell an invention that I've patented, called Toothpaste 2 Go. I love interacting with my readers and hope to learn as much about you as you learn about me!
Melissa @ Mommy Living the Life of Riley!