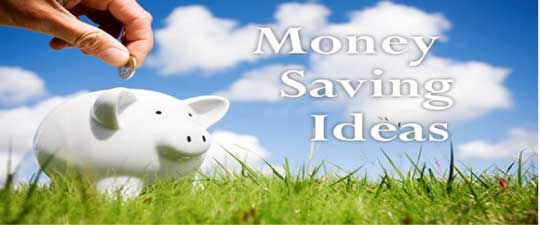 Today is April 15th, the end of another hectic tax season.  I finished my taxes last month, but have to admit that it took an entire weekend to get all of my receipts, documents ...
Losing weight used to be the numero uno New Year's resolution, but the ugly economy has shoved this lofty goal down to second place on 2013 lists.  A survey commissioned by Fidelity Investments found 46 ...
With New Year's Eve a distant (and possibly hazy) memory and Memorial Day still months away, the Super Bowl is one of the only party-worthy occasions of the season. Last year's game saw more than ...
By now you know which foods are healthy and which are not. Fruits and veggies should be snack staples, while Doritos and Red Bull really shouldn't be part of your daily intake. Though you have ...
Spending less and saving more money are among the top goals on typical New Year's resolution lists. Heavy holiday spending coupled with potential tax hikes from the fiscal cliff make these goals even more important ...
Was one of your resolutions for 2013 to get your mobile app library in order? Or better yet, to focus on finding better quality apps? In a recent survey of parents of kids 2-10, parents ...
In honor of Small Business Saturday, I wanted to introduce you to my personal favorite small business, MCM Inventions, Inc.  How did this business come to earn the status as my all-time favorite?  Because ...
It's every household's never-ending chore…LAUNDRY!  I swear, I don't understand how just three people can dirty up so many clothes so fast, but my family always seems to manage.  I actually shudder to think ...
During the fall, we frequently hear tips about how to better weatherproof our homes for the cold winter season that lies ahead. I haven't read a tip list yet which didn't mention using a programmable ...
I thought that maybe on this Toddler Tuesday, I would travel off the beaten path of cute baby pics and videos, to bring you a few tips regarding making your own baby food at home.  ...
Married people say they envy singles, but years of happy matrimony have warped their minds. Couples are quick to forget the constant rejection and empty apartments which haunt day-to-day single life. Then there are the ...
A recent article on The Consumerist found the TLC show, Extreme Couponing, has sparked a trend of out-of-control couponers who ransack stores with little regard for fellow shoppers. Merchants have taken notice and many ...
How many times have you told your children that "money doesn't grow on trees?"  Probably, many times more than you'd like to.  Unfortunately, children just don't understand the value of money, because most of ...
There are two things you absolutely must do when visiting New York City: go shopping and see a Broadway show.  Unfortunately, both experiences be fairly expensive. While you can always window shop to save money, ...
I recently found myself plagued with the decision to replace an expensive appliance: the refrigerator. The existing one just wasn't cutting it anymore but I knew this big-ticket buy would make a serious dent in ...
A recent story by USA Today found the Credit CARD Act of 2009 is cutting down on card companies cashing in on college students. Cards issued through universities and alumni associations dropped by 17 ...
With warmer weather fast approaching, it's time to dust away the winter blues and refresh your home for spring.  Clean your home with natural, food safe Arm & Hammer Baking Soda instead of harsh cleaners. ...
Looking for a custom invitation without spending upwards of $700? The average cost of wedding invitations and reply cards is $659, according to 2010 data from The Bridal Association of America. Here are some ways to ...
More Americans are paying more of their health care costs out of pocket every year because they lack insurance, have higher deductibles and co-payments, or have chosen a Health Savings Account plan. There are ...
With all the hoopla about TLC's first season of "Extreme Couponing," it's no wonder Season Two is eagerly awaited by many fans.  Starting Wednesday, the maniacs of the supermarket aisles take to American TV ...
More people than ever are clipping coupons for their supermarket trips, but they're often not saving as much as they could, says Toni House, author of How to Reduce Your Weekly Grocery Bill to $85 ...
What is Superpoints?  The Superpoints Network is a collection of sites where you can win and earn Superpoints that can be redeemed for great rewards. How can I earn Superpoints?  To get the most out of the Superpoints Network, tell everyone you ...
Thanks to steadily increasing cotton and labor costs, fashion manufacturers are cutting back on both quality and extras. Instead, they're using inexpensive tweaks to con shoppers into believing they're actually getting more for their ...
Return policies for some merchants are more complex than income tax laws. Buy online and you'll spend umpteen hours working your way through phone trees and waiting on hold to talk to a customer ...
It's always a good time to review some basic tricks that coupon pros use. Read on for six ways you can save like an extreme couponer. 1. Start Small Don't try to go extreme all at once. ...
With summer around the corner, Hollywood is about to roll out a slew of sequels, blockbusters and indie films sure to satisfy most people's craving for easy entertainment. Before making your summer selections, however, you ...
If you spend most of the year spoiling your grandkids, the time has finally come for a role reversal. With Grandparents' Day coming up on Sept. 9, kids of all ages are preparing to honor ...
Thanks to recent legislation, merchants will soon enjoy greatly reduced "swipe fees," the fee charged to retailers every time a customer swipes a debit card. Starting in July, larger banks can only charge merchants ...
When I was a young girl, I definitely looked forward to this time of year.  A new school year always brought with it so many different experiences and fun activities to be a part of, ...
A few weeks ago, the USDA warned about the impending increase in food prices as drought continues to diminish corn and soybean crops. More recently, however, the USDA advised corn crop yields are even less ...